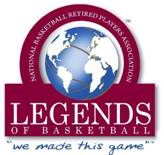 NBRPA FAST BREAK: News you can use!
December 21, 2011
Season's Greetings NBRPA Members:
In an effort to continue keeping you updated as a valuable Member, below are a series of News & Notes items. Please share your latest happenings with us at MemberAlert@legendsofbasketball.com
CAST YOUR VOTE TODAY!
The 2011-2012 NBRPA Board Online Elections are currently open and await YOUR vote! Please be advised that you should have received an email reminder from elections@vote-now.com. This email contains your unique ID needed to cast your vote. Please be sure to search your inbox and your SPAM folders to ensure that the email was not redirected.
The deadline to vote is December 23!

2012 ALL-STAR WEEKEND INFORMATION COMING THIS WEEK
By week's end, all members will be receiving an email outlining activities and accommodations for the February 23-26 All-Star Weekend in Orlando. Included in this email will be a one-stop online link to register for what promises to be a memorable All-Star Weekend of fraternization and fun.
NEW NBRPA WEB SITE UNDER CONSTRUCTION
The NBRPA National Office has begun construction on a new, interactive, state-of-the-art web site with renowned digital agency Lightmaker. The web site client list for Lightmaker is impressive and includes global brand stalwarts such as Disney, Sony, ClubMed, Nokia and Ferrari. On the sports side, Lightmaker has created sites for global soccer giant Manchester United, NASCAR, the Pro Bull Riders and tennis star Maria Sharapova.
A first round of design for the new site has already been created, with an emphasis placed on drawing fans in to our brand. NBRPA members will be able to utilize the web site with a secure log-in to take full advantage of our programs, while also being able to share contact information and ideas with other members in a private, secure online environment.
The new LegendsofBasketball.com will launch during All-Star Weekend.
CURRENT ONLINE FEATURES
NBRPA Board of Directors Treasurer Marvin Roberts has interests and experiences varied enough to make a Renaissance man jealous: http://www.legendsofbasketball.com/channel/245/
Thurl Bailey, who serves the NBRPA Board of Directors, is enjoying life after a long, fruitful journey through the game of basketball: http://www.legendsofbasketball.com/channel/252/
Muggsy Bogues was determined and relentless on the court and his daughter Brittney shows those same attributes in her public relations career: http://www.legendsofbasketball.com/channel/250/
The NBRPA's Phoenix Chapter gave back to Feed the Children in Tucson this holiday season: http://www.legendsofbasketball.com/channel/247/
The NBRPA's National Office teamed up with the Los Angeles Chapter to give back to the community during Thanksgiving: http://www.legendsofbasketball.com/channel/242/
Former NBA star Walter McCarty's new career as an R&B performer is taking flight: http://www.legendsofbasketball.com/channel/246/
'TIS THE SEASON
As we reach the end of 2011 and celebrate the holiday season, the NBRPA National Office would like to extend heartfelt holiday cheer to you and your families. This is a special time of year to enjoy family and friends, to reflect on the year that was, and to look forward toward opportunities to come in the New Year.
Best wishes to you and your families … here's to a healthy, happy and prosperous holiday season. We look forward to a fruitful 2012 and thank you for your support.
Happy Holidays!
Arnie D. Fielkow
CEO
and
Paul Corliss
Senior Director of Communications & Special Projects
National Basketball Retired Players Association
483 Tenth Avenue
Suite 400
New York, NY 10018
212-251-0368