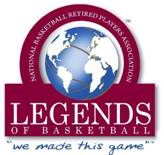 NBRPA FAST BREAK: News you can use!
February 8, 2012
NBRPA Members:
Today we officially announced our celebration of Black History Month as part of Legends All-Star Weekend. With participation from basketball legends of every era, the NBRPA will host a full day of activities on February 24 headlined by a first-ever Hardwood Pioneers Reflect Roundtable in which Kareem Abdul-Jabbar, Elgin Baylor, Julius Erving, Dr. Richard A. Lapchick, Earl Lloyd, Dolph Schayes, Sharon Robinson (daughter of baseball legend Jackie Robinson) and others will discuss the impact of African-American leadership in sports and the game of basketball. The Honorable Marc H. Morial, President & CEO of the National Urban League and former Mayor of New Orleans, will serve as emcee for this very special event.
The Hardwood Pioneers Reflect Roundtable will be webcast live at the new LegendsofBasketball.com as part of the NBRPA's partnership with Lightmaker, a Global Digital Agency. LegendsofBasketball.com has been redesigned and developed by Lightmaker and will relaunch as part of the Association's All-Star Weekend festivities. For more on Lightmaker, please visit Lightmaker.com.
The NBRPA's celebration of Black History Month begins at noon on Friday, Feb. 24 with a community visit to Maynard Evans High School (located at 2751 Lake Stanley Road in Orlando) as part of the Legends Care Music & Education Series. As part of this hands-on school visit, former New York Knicks star and PhD Dr. Richard Barnett will inspire students with his Education & Dreams Lecture Series, and the Legends Band  will conclude with an inspirational musical performance.
Members and their guest are invited to attend the Hardwod Pioneers Roundtable free-of-charge, and tickets are available to the general public for $50 apiece at LegendsofBasketball.com. We also ask our Legends to please join us earlier in the day for the community service event at Maynard Evans. High School.
Our event was covered in today's Orlando Sentinel and can be found online here:
http://blogs.orlandosentinel.com/sports_magic/2012/02/national-basketball-retired-players-association-to-host-event-on-feb-24.html
BOWL FOR PHILANTHROPY DURING ALL-STAR WEEKEND
Women Standing Tall and the NBRPA will kick off the 2012 All-Star Weekend on February 23 with the All-Star Strike 300 Challenge. NBA All-Stars, Legends, and Rookies – including Moses Malone, Chris Paul, Paul Pierce, Rajon Rondo, Kyrie Irving and Kemba Walker – are expected to attend. The event will be emceed by actor Anthony Anderson of Law & Order.  Members wishing to join us for this very special event should email Scott Roskind at sroskind@legendsofbasketball.com.
The monies contributed to this worthwhile fundraiser will assist in supporting and funding Women Standing Tall and Legends Care programs that impact youth and families.
Tickets for the public to attend this very special event can be purchased online at: http://allstarstrike300.eventbrite.ie/?ebtv=C
COMMUNITY SERVICE: A PILLAR OF YOUR NBRPA
As the NBRPA moves forward into 2012 with great purpose and focus, our Association has recommitted itself to community service. With that in mind, we have open opportunities in place for members to give back during All-Star Weekend:
Feb. 23   5-6:30 pm             Legends Basketball Clinic at NBA Jam Session                Orange County Convention Center
Feb. 25   3:30-5 pm             Life talk & Shootaround with local youth athletes         Location TBD
Please email Director of Member Services Adrian Colón at acolon@legendsofbasketball.com to RSVP to any or all of these community events.
PROMINENT ARTIST 'FRENCHY' WILL PAINT LEGENDS AT ALL-STAR WEEKEND
As part of Legends All-Star Weekend, renowned performance artist Frenchy will be putting the NBRPA's members and events on canvas in Orlando. A frequent contributor on ESPN's Monday Night Football broadcasts, Frenchy will capture the Hardwood Pioneers Reflect Roundtable event live on canvas in a painting that will be auctioned live to raise funds for the Legends Care Foundation. He is also available to hire for commission work in which he can paint any NBRPA Member or basketball event.
Frenchy has a full portfolio of sports artwork at FrenchyLive.com. To hire him for a commissioned painting during Legends All-Star Weekend, please email Paul Corliss at pcorliss@legendsofbasketball.com.
NBRPA TO DISTRIBUTE NEW MAGAZINE DURING ALL-STAR WEEKEND
The NBRPA will unveil its new official quarterly publication, Rebound Magazine, as part of Legends All-Star Weekend. All members in attendance in Orlando will receive the first issue of this new publication, whose Editor is NBRPA Phoenix Chapter Co-President Matt Fish, with their registration materials. The first issue will feature a Q&A with Alonzo Mourning, as well as a guest column by Dr. Dick Barnett.
To receive future issues, please make sure the NBRPA has your correct mailing address.
SAVE THE DATE: NBRPA TO HOST 'MAGIC/BIRD' PLAY IN NEW YORK AS FUNDRAISER ON APRIL 19, 2012
Basketball is coming to Broadway this spring with the opening run of the critically-acclaimed "Magic/Bird" play set to run this spring at the Longacre Theatre in New York City. Producers Fran Kirmser and Tony Ponturo – the same pair that brought sports fans and theatergoers "Lombardi" – wrote the play that casts Kevin Daniels as Earvin "Magic" Johnson and Tug Coker as Larry Bird.
The NBRPA has secured one night at the Longacre Theater to use ""Magic/Bird" as a fundraiser for our Association. Details are still being worked out, but the April 19 date is locked in so mark your calendars. We look forward to making a more detailed announcement regarding this exciting fundraising opportunity in the near future.
Yours in basketball,
Arnie D. Fielkow
CEO
and
Paul Corliss
Senior Director of Communications & Special Projects
National Basketball Retired Players Association
483 Tenth Avenue
Suite 400
New York, NY 10018
212-251-0368
LegendsofBasketball.com – Twitter.com/NBAalumni – Facebook.com/NBAalumni