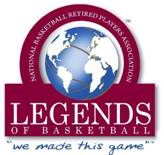 NBRPA FAST BREAK: News you can use!
January 12, 2012
NBRPA Members:
Let's get SOCIAL!
It's impossible to turn anywhere these days without being touched by social media. The two most popular phrases in marketing today are "Follow us on Twitter" and "Like us on Facebook."
With that in mind, the NBRPA is asking members to send us their Twitter name. The new www.LegendsofBasketball.com is scheduled to launch during the 2012 All-Star Weekend in Orlando and we promise to help our members log on to the social media revolution. The front page of our new web site will carry a Twitter scroll of members' accounts and the entire site will easily be linked to Facebook.
PLEASE RESPOND TO THIS EMAIL AND SEND US YOUR TWITTER NAME TODAY!
Members that send us their Twitter name will see all of their Tweets roll on to the new www.LegendsofBasketball.com in real time.
You can find the NBRPA on both Twitter and Facebook. Follow us on Twitter at twitter.com/NBAalumni and like us on Facebook at facebook.com/NBAalumni … we will return the love.
NBRPA TO LAUNCH GROUND-BREAKING CAREER TRANSITION & EDUCATIONAL COACHING PROGRAM
The NBRPA is pleased to announce a new partnership with the Transit Group, Ltd., Athlife, and the National Consortium for Academics and Sports (NCAS) – training and development organizations with a combined 50 years of experience working with professional athletes – to develop a comprehensive career transition program for former NBA, ABA and Harlem Globetrotters players that comprise the NBRPA's membership.
The NBRPA's Career Transition Program will offer both Career Transition Coaching and Educational Coaching to members, with the following components included:
-          Career Transition Coaching: Services include career transition program design and coaching; career transition counseling; personality, work style and entrepreneurship assessments; entrepreneurship education; franchising education and plan development; personal marketing plans; resume development and review; internship placement; job-shadowing opportunities; electronic job searches; lead management; evaluating opportunities; and completing a job search
-          Educational Coaching: Services include educational design and coaching; academic advising; transcript analysis; financial assistance counseling; learning styles assessments; classroom options vs. distance learning; graduate school search; graduate school application assistance; essay editing; and tutoring.
A full presentation of this new and exciting program will be made to members during All-Star Weekend in Orlando.
MEETINGS WITH NBA COMMISSIONER DAVID STERN AND NBPA EXECUTIVE DIRECTOR BILLY HUNTER
In late 2011, the NBRPA had productive meetings with both NBA Commissioner David Stern and NBPA Executive Director Billy Hunter. The meetings were positive, as both Commissioner Stern and Executive Director Hunter acknowledged the important role played by the NBRPA in helping transition players to life after professional basketball. Both leaders shared how important retired players are to their respective organizations and promised to keep the lines of communication open with the NBRPA.  Our Board of Directors, alongside CEO Arnie D. Fielkow, will continue work to strengthen relations with the NBA and NBPA for the good of our Association.
NBRPA & WELLS FARGO TO CELEBRATE BLACK HISTORY MONTH AT ALL-STAR WEEKEND
The NBRPA has exciting news to share with membership as we shape activities for All-Star Weekend in Orlando, February 23-26 (see attachment for full schedule – please note, all events are TENTATIVE  and subject to change).
On Friday, February 24 – in conjunction with our corporate partner, Wells Fargo – the NBRPA will celebrate Black History Month with a series of events designed to commemorate the impact African American professional basketball players have had on our country and the game of basketball. Keep checking your email and our web site, www.LegendsofBasketball.com for updates on activities that will range from community events to a public reception and panel discussion.
PIONEER EARL LLOYD FEATURED ON NBRPA WEB SITE
One of the biggest African American history-makers the NBA has ever seen, Earl Lloyd, is currently featured on www.LegendsofBasketball.com.  On Halloween night in 1950, Lloyd made history as the first African American to play in an NBA game, when he scored six points and grabbed a game-high 10 rebounds for the Washington Capitols in a 78-70 loss to the Rochester Royals.
Read Earl's profile here: http://www.legendsofbasketball.com/channel/259/
FULL NBA ALL-STAR WEEKEND SCHEDULE ATTACHED
Though still TENTATIVE, and subject to change, we have attached a full schedule of NBRPA activities for NBA All-Star Weekend in Orlando, February 23-26. Our Board of Directors and staff looks forward to seeing members and sharing in stories, fellowship, philanthropy and fun!
Yours in basketball,
Arnie D. Fielkow
CEO
and
Paul Corliss
Senior Director of Communications & Special Projects
National Basketball Retired Players Association
483 Tenth Avenue
Suite 400
New York, NY 10018
212-251-0368
LegendsofBasketball.com – Twitter.com/NBAalumni – Facebook.com/NBAalumni