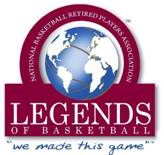 NBRPA FAST BREAK: News you can use!
January 24, 2012
NBRPA Members:
PLEASE E-MAIL US YOUR BUSINESS INFORMATION & WEB SITES
As part of the new www.LegendsofBasketball.com, scheduled to launch during upcoming NBA All-Star Weekend next month, we are building a new online BUSINESS CORNER in order to spotlight member businesses, place links to member business web sites and provide special offers from members to other members and the general public.
Please email any business information, web site links or special offers you would like to include in our new BUSINESS CORNER to Paul Corliss at pcorliss@legendsofbasketball.com
Also, as a reminder, please send your Twitter account name to the same email address for inclusion on the new site. We received several member Twitter handles after our last email blast and will continue adding member accounts to the live feed that will run through our new web site.
NBRPA NATIONAL OFFICE ON THE MOVE
The National Office for our Association will be moving to Chicago over the weekend as part of a relocation that will eventually save more than $600,000 over six years – monies that will be put toward programs to benefit our members. The permanent address and phone numbers for our new national office (effective January 30, 2012) are:
175 W. Jackson Blvd
Suite 1600
Chicago, IL 60604
Phone: 312-913-9400
Fax: 312-913-9401
As part of our transition, please utilize staff cell phones if you have any difficulties reaching the NBRPA National Office via phone over the next few days. Our staff cell phone list is as follows:
Arnie Fielkow                    917-621-6422
Adrian Colon                     646-265-0532
Paul Corliss                     917-621-5744
Kim Durr                         917-828-3962
Scott Roskind                    914-980-8431
Thank you for your patience as we make this cost-saving move.
NBRPA ANNOUNCES NEW HIRES: SAM VINCENT AND ROYCE DUPLESSIS
The NBRPA today announced the hires of former NBA player and Charlotte Bobcats head coach Sam Vincent as part-time Director of Chapter Development and attorney Royce Duplessis as Director of Operations & External Relations. Vincent has already started with the Association, while Duplessis is slated to join our Association next month.
"Sam Vincent's resume speaks for itself – he won an NBA championship as a player and recently led an NBA team as head coach," said NBRPA CEO Arnie D. Fielkow. "Sam's past experiences give him a unique understanding of our members' mindset. He also has a thorough understanding of the NBRPA and its chapters, because he established the NBRPA Chapter in Orlando and served as its first President."
Vincent, a former No. 1 draft pick of the Boston Celtics after an All-America career at Michigan State, played seven NBA seasons and served as head coach of the Charlotte Bobcats for the 2007-2008 season. In his role with the NBRPA, Vincent will work with current NBRPA Chapters in Atlanta, Houston, Los Angeles, Orlando and Phoenix, while also assisting NBRPA Members in the establishment of new local Chapters in major markets.
Duplessis, who attended Xavier University of Louisiana and Howard University Law School in Washington D.C., practiced law prior to joining the NBRPA. Much of his work has been in areas of public service and government – including a stint as law clerk to Judge Thomas J. Motley with the Superior Court of the District of Columbia – and Fielkow said Duplessis' unique background will provide a tremendous benefit to a 501(c)3 charitable Association such as the NBRPA, as well as its members.
"Royce Duplessis brings a strong legal background and high level of relationship-building expertise to our team," Fielkow said. "He will work closely with our staff and Board of Directors to  enhance revenue generation efforts for the benefit of our Members. Royce will also be responsible for strengthening and expanding partnerships with all key external stakeholders."
NBRPA CEO ARNIE FIELKOW ADVOCATES YOUTH IN PUBLISHED GUEST COLUMN
NBRPA CEO Arnie D. Fielkow, who formerly served as President of the New Orleans City Council, wrote a guest column for the New Orleans Times-Picayune that was published on January 21. In the column, Fielkow advocates for an equitable and first-class recreation system for all New Orleans youth, irrespective of the neighborhood or affluence from which they come. Fielkow was the lead advocate while on the New Orleans City Council for a complete revamping of the City's once award-winning recreation system. In October 2010, 74 percent of New Orleans voters, in a city-wide referendum, cast a YES vote for this change.
Fielkow's column, in its entirety, can be found here: http://bit.ly/yU20u7
REQUEST OF SUPPORT FROM NBRPA MEMBER ROBERT REID
Dear Legends Friends,
I come to you asking for you to look into your closet for an old pair of tennis shoes, hats, or photos … anything you could donate to help our small college raise funds to support the basketball program. If you don't have official memorabilia that is fine, anything with your signature would be great.  We will proudly display your bio to the people of North Texas that remember your great achievements (no donation to small!).
Send your donations to:
Ranger College
Attention: Men's Basketball
1100 College Circle
Ranger TX, 76470
For additional information contact me at:
rkrdel@yahoo.com or 832-671-1833
Thanks in advance for your support and we hope to see you soon at a Ranger basketball game!
Sincerely,
Coach Robert Reid
Ranger College
A SPECIAL NOTE OF SENTIMENT FROM CEO ARNIE D. FIELKOW
After work last night, I surfed the Internet – as I normally do following a full day – and came across an article in the Milwaukee Journal-Sentinel. The story nearly brought me to tears, but also made me realize how sports truly transcend life at times and the impact it has on people.
In this case, a radio announcer named Jim Irwin, who most of you (other than those Members who played for the Bucks) have probably never heard of, passed away yesterday from cancer at the young age of 77. For those who happen to have been raised or who resided in the state of Wisconsin, Jim was a beloved figure and the voice of the Milwaukee Bucks, Green Bay Packers, Wisconsin Badgers and other teams around the state. Believe it or not, he did all of these at the same time.
Starting as a youth and well into adulthood, hardly a week passed – no matter where I lived in the country – that I didn't find a way to listen to Jim's radio calls. He lived and died with "my" teams (most of which were not very good on the court or field!) and for that reason, he was a kindred spirit to me and legions of other Wisconsin sports fans.
What does this have to do with sports and life? In reading the outpouring of emotional tributes fans sent to the newspaper, one letter stood out. Like me, the writer expressed great sorrow. He went on to state that he felt that a big chunk of his own life had been lost with Jim's passing, as much of his life could be outlined chronologically by following Jim's career. Jim came on the Wisconsin scene in 1964 and – like the newspaper reader that wrote in – I literally grew up with Jim's calls and the high and low moments of our teams from being a teenager to young adulthood and now into middle age. In fact, even today, I can remember Jim's exhilaration when, in 1996, "our" Packers finally returned the Lombardi Trophy to its rightful place in Titletown – Green Bay.
Maybe I am being too emotional with this, because I never knew Jim Irwin personally, nor ever had the chance to meet him. Yet his voice was definitely part of my family experience and it reminded me how much I miss my own Dad – like me, a Bucks, Packers and Badgers fan – who passed away less than a year ago.
Let's never forget the importance that sports plays in people's lives. It's certainly not life and death – and should never be taken as such – but people's lives are indeed measured by those small moments in life, when the winning shot is made, touchdown scored, or strikeout recorded. All of us who are privileged to work in this industry, or – like all of you – to have played the great game of basketball, should always remember that what you did meant a tremendous amount to young and old people alike who you will never know. Something is indeed magical about sports! – Arnie
NBRPA ALL-STAR WEEKEND UPDATE COMING
With the February 23-26 NBA All-Star Weekend fast approaching, the NBRPA is locking in plans for all events related to the most anticipated basketball weekend of the year. Look for a full press release and updated schedule of events to be delivered to all members via email later this week.
We look forward to seeing everyone in Orlando!
Yours in basketball,
Arnie D. Fielkow
CEO
and
Paul Corliss
Senior Director of Communications & Special Projects
LegendsofBasketball.com – Twitter.com/NBAalumni – Facebook.com/NBAalumni