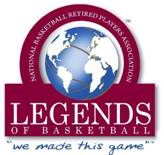 NBRPA FAST BREAK: News you can use!
November 7, 2011
Greetings NBRPA Members:
In an effort to continue keeping you updated as a valuable Member, below are a series of News & Notes items. Please share your latest happenings with us at MemberAlert@legendsofbasketball.com
LABOR UPDATE
While the NBRPA has remained neutral as it pertains to NBA labor talks, we have made an effort to share with both sides how important it is to consider retired players in the formation of a new labor agreement.
We thought you would find NBA Insider Ken Berger's blog at CBSSports.com interesting.
Berger writes: "The union has proposed a 51-49 split in favor of the players, with 1 percent going to benefits for retired players."
Click here to read the complete story:
NEW NBRPA WEB SITE COMING
The NBRPA is in the final stage of securing a cutting-edge Internet production firm to help implement a new and dynamic home page for the Association. This new web site will be a leader in the sports industry, offering all the latest in content and interactivity for members and fans alike. The NBRPA has targeted All-Star Weekend in late February for launch of the new site.
Keep an eye out for updates on this project via email. And if you have ideas for the new site, please feel free to email us at MemberAlert@legendsofbasketball.com
LEGENDS FEATURED IN ATHLETES QUARTERLY
Athletes Quarterly, a publication distributed directly to athletes and former athletes, visited the 2011 Legends World Sports Conference and conducted a photo shoot with several NBRPA members for a piece that will appear in the magazine's upcoming issue.
Click here to download a PDF of the photos/article.
TAKE ADVANTAGE OF THE NBRPA'S EARLY PAYMENT PLAN
The NBRPA strives itself on providing a wealth of benefits for its members to utilize throughout the calendar year. In an effort to receive the full value of membership, the NBRPA has now put forth a new Membership Dues Payment Policy. This policy calls for an early payment reward.
Early Payment Reward: 10% Dues Credit – Annual dues statements should be received by members on or before November 1. Each annual member who makes their dues payment prior to November 30 will receive a 10% ($25.00) credit, reducing their annual dues to $225.00. Please note that their payment must be received and checks cleared by November 30. After November 30, the regular dues amount will be owed ($250.00).
We look forward to staying touch!
Arnie D. Fielkow
CEO
and
Paul Corliss
Senior Director of Communications & Special Projects
National Basketball Retired Players Association
483 Tenth Avenue
Suite 400
New York, NY 10018
212-251-0368