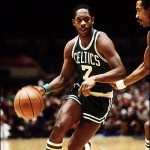 Inkredible is owned by Nate "Tiny" Archibald (HOF 1991, NBA Top 50), Rick Barry (HOF 1987, NBA Top 50) & Michael Dachs. After always being asked to write their career "stats" or accomplishments at signings, the three partners decided to have basketballs made up with fully printed panels that already featured ALL of the players information already on the basketball.
Each full size basketball features:
An action picture of the player
The players NBA career achievements
The players career statistics
Autograph panel
Genuine Authentic autograph with HOF inscription*
(* most players)
Each basketball is also accompanied with a Certificate of Authenticity (COA) signed by both the player who's signature is on the ball and Nate Archibald, as owner, along with matching holograms on both the basketball and the COA. This COA ensures that the autograph you are receiving is 100% authentic. The signatures on the COA are NOT original signatures.