Detroit Chapter President: Derrick Coleman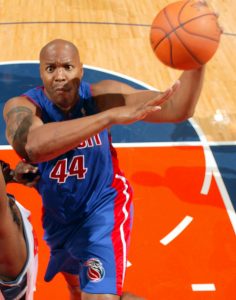 A NBA All-Star in 1994, Coleman spent 15 successful seasons in the NBA. The power forward scored more than 12,500 points in his career and grabbed 7,000 rebounds.
Selected first overall in the 1990 NBA Draft by the New Jersey Nets, Coleman won the Rookie of the Year Award in 1991. Coleman led the Nets to the playoffs for three straight seasons while averaging 20 points and 10 rebounds.
As a member of the 1994 FIBA World Championship Team for the United States, Coleman helped secure a gold medal. His no. 44 jersey is retired by Syracuse University, where he scored over 2,000 points in his four years.