Orlando Chapter President: Wayne "Tree" Rollins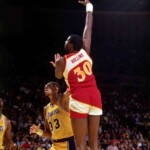 Wayne Monte Rollins nicknamed Tree is a retired American Basketball player who played for 18 seasons in the National Basketball League. In that time, he played for a number of teams including the Atlanta Hawks, Cleveland Cavaliers, Detroit Pistons, Houston Rockets, and the Orlando Magic. The 7-foot-1-inch 275 proud Clemson graduate played center and gained high esteem for his defense, particularly his rebounding and shot-blocking ability. He finished in the top three in blocked shots six times, leading the league during the 1982-83 NBA season. At the time of his retirement in 1995 he was fourth all-time in career blocked shots, behind only Hakeem Olajuwon, Kareem Abdul-Jabbar, and Mark Eaton, with a total of 2,542 He currently holds the ninth highest total of career blocked shots, having been passed on the list by Dikembe Mutombo, David Robinson, Patrick Ewing, Tim Duncan, and Shaquille O'Neal. During his playing career, Rollins was given the nickname "The Intimidator". During the 1994-95 season, Rollins served as both assistant coach and backup center for the Orlando Magic. He was an assistant coach for the Washington Wizards and Indiana Pacers and one-time coach of the now-defunct Greenville Groove of the National Basketball G-League. Rollins joined the WNBA's Washington Mystics in 2006 as an assistant coach. On June 1, 2007, he was named interim head coach following Richie Adubato's resignation early in the season. The Mystics' aggregate record under Rollins over the two seasons was 25-28, second best in Mystics history.
As the 14th pick in the 1977 NBA Draft by the Atlanta Hawks out of Clemson, Wayne "Tree" Rollins spent 18 seasons in the NBA with five different franchises.
Standing 7'1" tall, Rollins was known for his exceptional shot-blocking and rebounding ability, leading the NBA in blocked shots in 1983. Rollins was also All-Defensive First Team in 1984 and Second Team in 1983.
He finished his distinguished career with over 6,000 points, 6,500 rebounds, and 2,500 blocks. He stayed in the game of basketball after his playing career by serving as an Assistant Coach on multiple NBA and WNBA teams.