Phoenix Chapter President: Fat Lever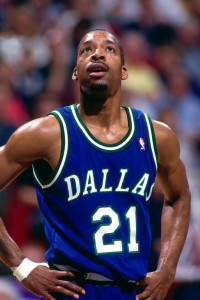 Fat Lever, selected by the Portland Trail Blazers as the 11th pick in the 1982 NBA draft out of Arizona State, joins the National Basketball Retired Players Association as president of the Phoenix chapter.
Among Lever's career achievements were making two NBA All-Star teams, an All-NBA Second Team in 1987, and an All-Defensive Second Team in 1988. Lever played with the Portland Trail Blazers from 1982-84, Denver Nuggets from 1984-90 and Dallas Mavericks from 1990-94.
As of the end of the 2018-19 regular season, he ranks 8th on the all-time list of most triple-doubles in the regular season with 43 over 11 seasons, ahead of players like Michael Jordan (28), Clyde Drexler (25) and Kareem Abdul-Jabbar (21).
He ended his career as the Nuggets second leading assists leader, behind teammate Alex English, third in terms of rebounds, behind Dan Issel and English.
On December 2, 2017, the Nuggets retired Lever's number 12 jersey during their home game against the Los Angeles Lakers.