Houston Chapter President: Maurice Evans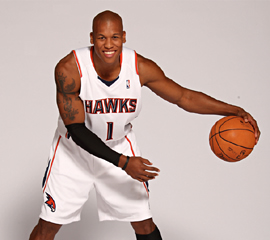 Evans started his career as a free agent for the Minnesota Timberwolves. In 2002, he moved to Greece to play for Olympiacos, and in the following, 2003-04 season he played for the Italian power Benetton Basket Treviso (winning the Italian Cup). In 2004, he made the roster for the NBA's Sacramento Kings, and became a rotation player. He started 11 of 65 games, and played 19 minutes per game on the season, contributing 6.4 points. In 2005, he was signed as a free agent by the Detroit Pistons, where he was reunited with his former coach and close friend Flip Saunders, and played a rotation role of 14 minutes per game, averaging 5.2 points per game.
On June 28, 2006, the Pistons traded Evans to the Los Angeles Lakers for the draft rights to Cheikh Samb, following Evans' request to be moved to a team where he would be given more playing time. He served as a bench player for the Lakers, largely as the back up to Kobe Bryant.
On November 20, 2007, he along with teammate Brian Cook were traded to the Orlando Magic in exchange for Trevor Ariza. He became the Magic's starting shooting guard, contributing to the team's 52-30 record and landing the 3rd seed in the Eastern Conference for the 2008 Playoffs.
In 2008, Evans agreed signed a 3-year contract with the Atlanta Hawks. On February 23, 2011, he was traded to the Washington Wizards.
In 2017, Evans joined the Killer 3's of the BIG3 basketball league.