Cleveland Chapter President: Jim Chones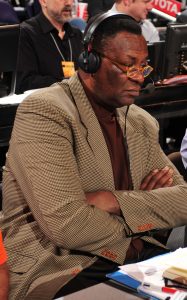 James Bernett "Bunny" Chones got his start in basketball with the ABA when he was drafted by the New York Nets in 1972. He got his first taste of the NBA in 1975 with the Cleveland Cavaliers, where he played five seasons. He won a title in Los Angeles, with the Lakers, in 1980. He retired in 1982 after a brief stint with the Washington Bullets.
After his active playing days, Chones has enjoyed a successful career as a broadcaster, for both television and radio. Most recently, he has served as the full-time radio voice of the Cavs since 2011.
Chones was inducted into the Greater Cleveland Sports Hall of Fame in 2002.