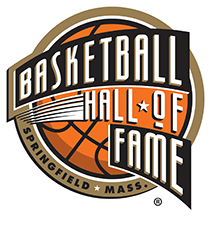 Hall of Fame Recognizes Leaders in Basketball for Humanitarian Efforts
LAS VEGAS, NV (July 11, 2019) – The Naismith Memorial Basketball Hall of Fame announced this evening from NBA Summer League in Las Vegas the winners of the 2019 Mannie Jackson - Basketball's Human Spirit Award. They are nine-time NBA All-Star, Baltimore native and community activist Carmelo Anthony; Harlem Globetrotter, motivational speaker and literacy advocate TyRone Brown; and three-time Olympic gold medalist and community leader Dawn Staley. The winners will be recognized on Thursday, September 5that the Reunion Dinner at the Hall of Fame during Enshrinement Weekend.
"The Basketball Hall of Fame is proud to recognize Carmelo Anthony, TyRone Brown and Dawn Staley for the positive impact they have had on a national and global scale," said John L. Doleva, President and CEO of the Naismith Memorial Basketball Hall of Fame. "The Mannie Jackson Award is an esteemed honor awarded to those with the highest level of dedication to using their platforms and resources to make an impact in the lives of others, and these honorees have exemplified their dedication to a variety of worthy causes."
Established in 2007, the Mannie Jackson - Basketball's Human Spirit Award honors individuals who have found the game of basketball to be a contributing aspect of their personal growth and accomplishment, a place to develop an understanding of others and an avenue that has helped shape his or her growth into a recognized visionary leader. Winners must reflect the values of Mannie Jackson's life-long mission to overcome obstacles and challenge the status quo, while taking responsibility for his or her actions and seeking the highest standard of excellence.
"A Hall of Fame should recognize great athletes, but also the great people who are in athletics and are doing extraordinary things for their communities," said Mannie Jackson, the Award's namesake. "I am proud to say the Naismith Memorial Basketball Hall of Fame Leadership continues doing an extraordinary job of identifying the 'greats' in the basketball community who do positive things for Humankind."
Anthony, Brown and Staley were chosen from a large candidate pool that represents every level of basketball and is reviewed annually by the Naismith Memorial Basketball Hall of Fame and Mr. Jackson.
Jackson has served as a positive example and role model to his peers, in addition to his tremendous business success. A former star for the Harlem Globetrotters, Jackson served as a senior executive for Honeywell Inc. during the 1980's and early 1990's and saved the Globetrotters from near extinction in 1993 when he purchased the team. In doing so, Mannie Jackson became the first African-American owner of a major international sports and entertainment organization. In a short period of time, Jackson revived the organization and led the Globetrotters to record attendance and revenue growth while expanding the influence of the Globetrotters to more than 118 countries. Under Jackson's watch, the Globetrotters charitable contributions totaled over $15 million and in 2002 the Harlem Globetrotters were elected into the Naismith Memorial Basketball Hall of Fame.
In 2012, Jackson penned his bestselling autobiography, "Boxcar To Boardrooms" and continues to donate generously to numerous causes including the University of Illinois, South African youth funds, Cancer Research and the Basketball Hall of Fame. He is also active in promoting the mission of the Mannie Jackson Center for the Humanities located in his hometown Edwardsville, Illinois while serving as the Center's lead investor. He was enshrined in the Basketball Hall of Fame in 2017.
The Mannie Jackson - Basketball's Human Spirit Award Winners 2019
Carmelo Anthony – Carmelo Anthony has demonstrated the importance of taking action to implement change. A nine-time NBA All-Star, three-time Olympic gold medalist, Anthony has committed his time and resources to positively impact his hometown of Baltimore, Maryland. In 2006, he helped fund the revitalization of a local community center for local youth and opened The Carmelo Anthony Youth Development Center. Additionally, Anthony has contributed $1.5 million to the Living Classrooms Foundation, a non-profit organization that provides innovative hands-on-education, job-training and community service programs for over 35,000 children, youth, and young adults in the East Baltimore community. On a national scale, Anthony has taken an active role in the wake of violence between police and African-Americans by organizing and delivering a powerful speech on the ESPYS stage denouncing all forms of violence. He continued this activism by marching with protestors of police brutality and organizing a townhall forum in Los Angeles that brought together black and Latino teenagers with local police officers. His continued efforts towards unity have inspired friends and teammates to also get involved. Recently, Anthony pledged 3 million dollars to his alma mater, Syracuse University, for the development of a new basketball practice facility.
TyRone Brown – TyRone "Hollywood" Brown's unique ability to turn life lessons into life's blessings has given him a unique perspective on helping others. Brown is recognized as a talented member of the Harlem Globetrotters, but his social impact far exceeds what he has accomplished on the court. Brown is currently a literacy and character educational speaker for school districts, corporations and nonprofits across the United States and Canada. As a children's author himself, the National Education Association commissioned him as their reading and literacy spokesperson for three consecutive years. In 2017, he started the Ambassadors of Responsibility Foundation to enable former teammates to better serve elementary and middle school students across the country. The foundation is a conduit to fight, and ultimately eradicate, illiteracy via books and school-wide enrichment programs. To that end, Brown visits 100 schools per year and delivers books to students at failing or underperforming schools. Brown credits his success to perseverance, as told in his children's book called "A Piece of Paper."
Dawn Staley – Dawn Staley has cemented her legacy in basketball as a three-time Olympic Gold medalist, six-time WNBA All-Star and one of the league's Top 15 Players of All-Time. Off the court, she has found purpose in helping those in need. In 1996, she founded the Dawn Staley Foundation to provide a multi-faceted academic, athletic, and community program to empower middle school girls. In addition to her personal foundation, she also co-founded INNERSOLE to provide new sneakers to homeless and children in low-income households. Staley's commitment to the community has earned her many accolades including the Red Cross Spectrum Award, Henry P. Iba Citizenship Award and South Carolina's highest civilian honor for achievement and service to the state. Since 2007, the WNBA has presented a community leadership award bearing her name. Staley is currently the head coach for University of South Carolina Women's Basketball, where she led her team to a national championship in 2017. Staley's constant focus on the betterment of herself, her team and her community continues to inspire others.
The Mannie Jackson – Basketball's Human Spirit Award Winners 2007-2018
2018: J.J. Barea, Tina Charles and Boris Diaw
2017: Bob Hurley, Nancy Lieberman, Dwyane Wade
2016: Chris Paul, Jalen Rose, Tubby Smith
2015: Paul Fireman, Bill Self, Steve Smith
2014: Bob Delaney, Robert L. Johnson
2013: Earvin "Magic" Johnson, Pat Summitt,
Boo Williams
2012: Jim Calhoun, Grant Hill, Dr. Richard Lapchick
2011: Chauncey Billups, Dr. John "Jumpin' Johnny" Kline, The V Foundation
2010: Jim Boeheim, Samuel Dalembert, Alfreda Harris
2009: Ken Hudson, Bob Lanier, Alonzo Mourning
2008: Sonny Hill, David Robinson
2007: Dikembe Mutombo
About the Naismith Memorial Basketball Hall of Fame
Located in Springfield, Massachusetts, the city where basketball was born, the Naismith Memorial Basketball Hall of Fame is an independent non-profit 501(c)(3) organization dedicated to promoting, preserving and celebrating the game of basketball at every level – men and women, amateur and professional players, coaches and contributors, both domestically and internationally. The Hall of Fame museum is home to more than 400 inductees and over 40,000 square feet of basketball history. Nearly 200,000 people visit the Hall of Fame museum each year to learn about the game, experience the interactive exhibits and test their skills on the Jerry Colangelo "Court of Dreams." Best known for its annual marquee Enshrinement Ceremony honoring the game's elite, the Hall of Fame also operates over 70 high school and collegiate competitions annually throughout the country and abroad. For more information on the Basketball Hall of Fame organization, its museum and events, visit www.hoophall.com, follow @hoophall #MannieJacksonAward or call 1-877-4HOOPLA.