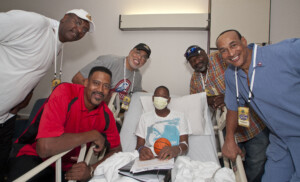 Health & Wellness is a top priority for the National Basketball Retired Players Association.
As a full-service advocacy organization for former professional basketball players -- as well as a civic-minded 501(c)3 charity -- health & wellness programs for both our members, and the community-at-large, are being added to the NBRPA's menu of member benefits and philanthropic programming.
Please click the following links for more on the NBRPA's health initatives:
INSURANCE
The NBRPA recently announced a health insurance partnership with SASid, Inc. and BWD Group LLC -- a longtime provider for the NBA -- to provide members a Health Insurance Marketplace online at NBAalumniinsurance.com.
GOTPROHEALTH
The NBRPA is partners with GotProHealth – a group focused on complementary and alternative medicine (CAM). Complementary medicine includes modalities such as integrative medicine, acupuncture, massage therapy, herbal medicine, chiropractic and naturopathic medicine.
KIVA RECOVERY
Kiva Recovery is a trusted, private agency equipped to deal with former players or their family members battling drug and/or alcohol addiction.  It is the NBRPA's substance abuse education and treatment partner.
Kiva offers confidential consultations with NBRPA Members to investigate presenting issues, places outreach calls to the member and their family when approved, and provides formal and informal screening of the member or families needs.  Kiva facilitates services to match the Member or families need and provides support throughout the process for all involved.
The NBRPA partners with SASid Inc, and BWD Group, LLC to provide members a Health Insurance Marketplace that is offered online at NBAalumniinsurance.com. In addition to this members-only healthcare marketplace, the NBRPA's partnership with SASid includes dedicated customer service professionals available to answer any questions about billing, claims and general product knowledge.
Hospital For Special Surgery (HSS)
The Hospital for Special Surgery (HSS), medical management program, in New York City will work closely with the NBRPA to provide its members discounted and specialized surgical care. Read more
Central Rexall Drugs, pain management program, is a leading pharmaceutical company that allows NBRPA members to receive free and discounted treatment through their product line of medications and supplements.