The Man, the Myth and the Logo
By Peter Vecsey and column castigator Frank Drucker  
"If there is one player, I would have liked to play against in his prime it would have been Jerry West. He was a great clutch shooter, he could jump, he was tough, and he was quick. I would have liked to test myself against him at his best."

"How would I have done?"

"We'll never know. From what I have read about Jerry and from what others have told me, he played the game a lot like I did. He was a great scorer, but he also played good defense. Could he have stopped me? I don't think so."

Could I have stopped him?

"I don't know. But it would have been a great matchup."  For The Love Of The Game: My Story By Michael Jordan. Edited by Mark Vancil. 1998
Huge thanks to column castigator Frank Drucker for digging through the treasure troves of stories and anecdotes on The Logo.
Of the 75 seasons the National Basketball Association has been doing business casual, Jerry West has been intimately involved for 61 of them.
A fly-by-night Lego Logo he isn't.
For West, who turns 83 later this month (May 28th), has made palpable palm prints over four franchises, the pair In Los Angeles sandwiching Memphis and Golden State.
Where to begin in a six-decade sojourn with so many chapters, so many verses, so much wine and so much song…even when he didn't always get along?
West's staggering stat sheet doesn't require rehashing here. If you're unfamiliar, take two aspirin and call Dr. Naismith in the morning.
What has made the man so complex is that or all the time he's spent either pursuing or achieving success, it seems there's been just as much time being unable to enjoy it.
Even going into a phone booth (dating myself, sue me) and morphing into the suave silhouette of the league is something West hasn't embraced.
As a Laker player non-pareil, it was the Celtics who were the bane of West's existence.
As a player, West went to The Finals nine of his 14 years. The Lakers lost eight, the first six to the Celtics.
He then found a way to get even. As the Purple Reign's general manager, he oversaw Showtime, then purloined both Kobe and Shaq, turning the Lakers into the bane of everyone else's existence.
However, West's Laker tenure—as player, then coach, then GM—saw its share of acrimony.
West feuded with then-owner Jack Kent Cooke toward the end of his playing career, admitting years later that had there been free agency, he would've hightailed it out of Hollywood.
In 1976-77, Lakers were 53-29. Won 7-game series v Warriors, Got swept in Western Conference Finals by eventual champion Blazers. Owned Portland in regular season. Didn't have Kermit Washington (dumped after punch decimated Rudy Tomjanovich's face) or injured Lucius Allen.
As GM, he had Bryant and O'Neal both want out, the latter eventually getting his wish (though after West left for the Grizzlies).
During an historic 18-year run in the Lakers front office, both as general manager (1982-1994) and executive VP of basketball operations (1995-2000), West's teams captured four NBA Championships (1985, 1987, 1988, 2000) and made eight trips overall to The Finals. Additionally, following his departure after the Lakers' 2000 NBA title, the team that he'd built completed its three-peat by capturing two additional titles in 2001 and 2002.
Overall, West was affiliated in one capacity or another with the Lakers for seven of their Championships in Los Angeles (four as an executive, two as a special consultant and one as a player).
After leaving the Lakers in 2000, West joined the Memphis Grizzlies as the team's president of basketball operations in 2002. Two years later, in 2003-04, the Grizzlies engineered one of the greatest turnarounds in league history, winning 50 games and making the playoffs for the first time in franchise history. Following that season, West was rewarded with the NBA's Executive of the Year award for the second time in his career. Overall during his five-year stint in Memphis, the Grizzlies made three Western Conference playoff appearances, but did not a single game.
A Force in the Playoffs: Jerry West's points in the 1965 playoff series v Bullets, Western Conference Finals:
Game 1 - 49
Game 2 - 52
Game 3 – 44
Game 4 – 48
Game 5 – 43
Game 6 – 42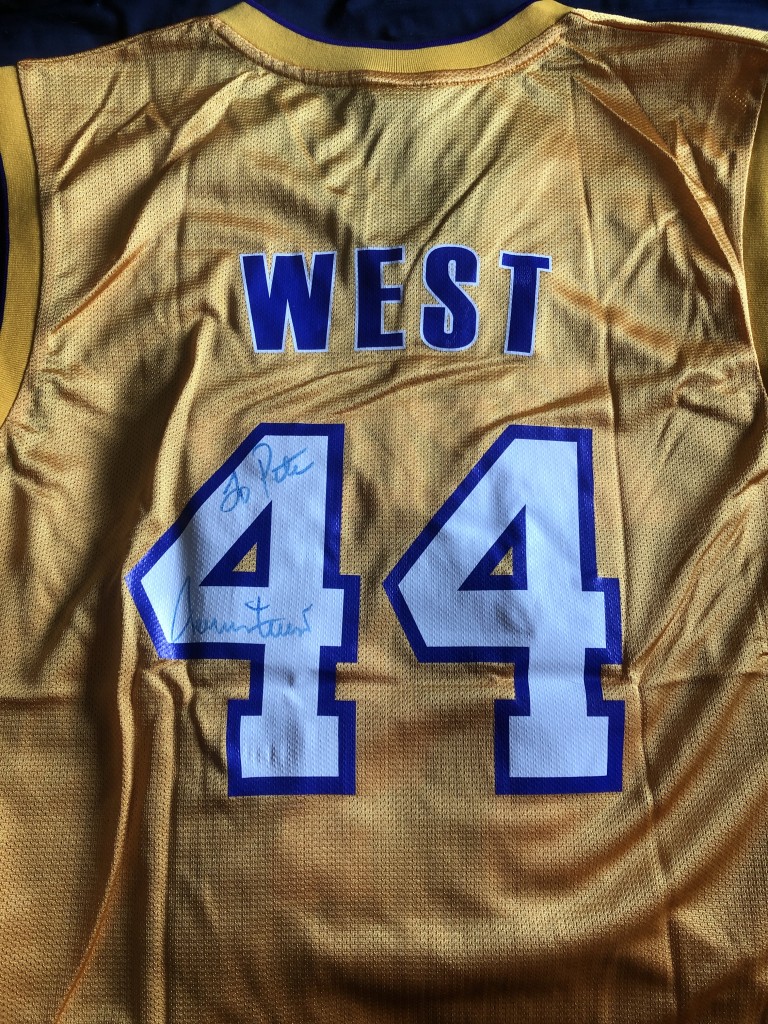 A trip down memory lane with an adoring son: 
Lakers legend gets own statue and tribute from son
By Peter Vecsey
February 18, 2011
LOS ANGELES — One of the things I loved most about my father was him being unafraid to show me his faults once we became co-workers.
For the first 16 years as a newspaperman, a N.Y. Daily News door my father opened when I was a junior in high school, we often would spend five days a week together on the job, in the car, eating out and playing cards. He had the amazing capacity to help every bookmaker in the building to run a profitable business.
Because of those shared experiences, I like to think our connection was deepest of the five children.
Ryan West, a Lakers' scout, is the sole son of five — David, Mike, Mark and Jonnie — to have worked with his famous father. Because of all the time he spent with his dad traveling around the country scrutinizing college players, gushing basketball and being privy to private pain, he, too, likes to think his relationship is deeper than his brothers.
Who better to offer close-quartered perspective on Jerry West as we celebrated yesterday's unfathomably overdue tribute to the former Lakers' player, coach and executive. His statue was unveiled outside Staples Center flanking Magic Johnson, Chick Hearn, Oscar De La Hoya and Wayne Gretzky . . . and flaunting the preposterous omissions of Kareem Abdul-Jabbar and Elgin Baylor.
Over the years, I have written many League Logo anecdotes — remarkable, hysterical and outrageous things I have seen or heard about him since the late 1950s when he and Oscar Robertson ruled college basketball.
And then there are the emotional, heart-wrenching stories he has confided to me about teammates and his life growing up in West Virginia, the son of an angry, drunken, child-beating coal miner.
Jerry's soon-to-be-released autobiography — "West by West; My Charmed, Tormented Life," written with Jonathan Coleman — will plunge into that darkness and much more.
In the meantime, in an e-mail, I asked Ryan if he would be comfortable giving us an unfiltered look at his father.
"Wow that's a tough one, he's so crazy," he responded initially before sending me several follow-ups that evening and the following morning.
"Well, he's brutally honest, which at times can be tough and hard to hear," he wrote. "But at the end of the day I appreciate the fact that he was straight forward with me.
"I remember one time we were in New York on a scouting trip for the Big East Tournament and he asked me to meet him in the lobby at 11 a.m. I got out of the elevator at 10:58 and he was upset because I was late. He's always on time, a complete perfectionist.
"I remember the summer when he was trying to sign Shaq," he wrote. "I was glued to his side throughout the whole process. If I was in my room and the phone rang I ran into his room and listened to every conversation. I saw him go through so many highs and lows that summer and when it finally looked like it was going to get done I've never seen him so excited.
"And after they signed him I saw him drop down into deep depression because Orlando had accused him of tampering. I think of anything negative that ever affected him during his time as an executive that was probably the most hurtful thing because he is moral and honest and always followed the rules, and he was so hurt that someone questioned his character like that.
"The funny thing with him is, he seems to function the best during chaos," Ryan wrote. "When everything is cool and calm that's when he goes crazy.
"I think maybe the saddest thing for me to see was after the Lakers finally won the championship in 2000 after completely rebuilding the team when Magic retired. He couldn't enjoy it. The stress and pressures of winning got to the point where he couldn't take it anymore.
"I will never forget when we won that year he did not come to Game 6 at Staples. My mom [Karen] and little brother [Jonnie, now playing for West Virginia] and I were at the game. We celebrated in the locker room after the game and the whole time I was saying to myself my dad should be here enjoying this, he put this all together.
"After we arrived home hours after the game [we were trapped inside Staples because they were rioting outside], I ran upstairs into his room to give him a championship shirt and hat and he was in a horrible mood. He said nothing about the game or the riots. He looked at me and said I need you to run an errand in the morning and got back into bed. I wanted to hug him and share it with him, but he wanted no part of it. It was then that I knew that he needed to retire because he couldn't enjoy winning anymore. All I've ever wanted is to see him happy and enjoy his life, and it's hard because he's so all over the place."
Ryan, 31, is too young to have seen his father run full speed up court, stop short, ascend to a high-priestess plateau and flick in a flawlessly formed jumper from wherever. Didn't see him coach, either; Karen was pregnant with him when he was finishing up a mostly unpleasant 3-year commitment.
"I was born June 9, 1979," he wrote. "The first time the Lakers ever beat the Celtics for the championship was on my birthday, June 9th, 1985. My mother was having a birthday party at our house during the game. My Dad was in the house watching the game and the cable went out I believe some time during the second quarter. Obviously, he was a nervous wreck. He had to listen to the rest of the game on the radio.
"That was the only championship ring he would wear, because it represented the Lakers' victory over the Celtics — we were not allowed to wear green in our house growing up. He is still haunted to this day by all those losses to Boston — on my birthday.
"We were at the Chicago pre-draft camp when we were both working for the Grizzlies. Most of the time when we did dinner it was my dad and I, and all the Laker guys — Mitch Kupchak, Bill Bertka, Ronnie Lester, Gene Tormohlen.
"So, we were at dinner and out of nowhere he gave this speech in front of everyone which was extremely embarrassing because I don't like being the center of attention. He took his 1985 championship ring off and gave it to me. I was so touched it almost brought me to tears. After that day I have never seen him wear another ring."
West factoids:
Jerry was the first ever draft pick of the Los Angeles Lakers #2 overall, behind Oscar Robertson, Cincinnati's territorial choice.
Exec of year with Lakers in 94-95 and Grizzlies in 2003-2004.
Drafted James Worthy with his first pick as a GM in 1982.
Selected Nick Van Exel in 2nd round, 37th overall in 1993.
Drafted the often overlooked underrated star of his era Eddie Jones 10th overall in 1994.
Drafted Kyle Lowry in 2006 with 24th pick, who was traded Feb. 19, 2009 as part of a 3-team transaction. Grizzlies dealt Lowry to Houston. The Rockts traded Rafter Alston to Orlando. The Magic trade Brian Cook to Houston. And Orlando traded Adonal Foyle, Mike Wilks and a 2009 first (DeMarre Carroll) to Memphis.
Hired as executive board member and consultant by Warriors in 2011. Part of 2015 and 2017 title teams. Joined Clippers as Consultant June 2017.
62 years old when he left Lakers in 2000.
69 when he left Memphis after 5 years in 2007
72 when he was hired by Warriors in 2011
77 when he was hired by Clippers in 2017
Turns 83 on the 28th of May