Dean Tolson
The National Basketball Retired Players Association's (NBRPA) history is filled with inspirational stories from our Legends. Whether its stories of surviving humble beginnings and reaching the highest pinnacles the sport of basketball has to offer, or a member going the extra mile to aid their communities or mentoring the youth of the world – there is no shortage of stories that transcend the sport and show the resolve and fortitude our members display in trying to make the world a better place.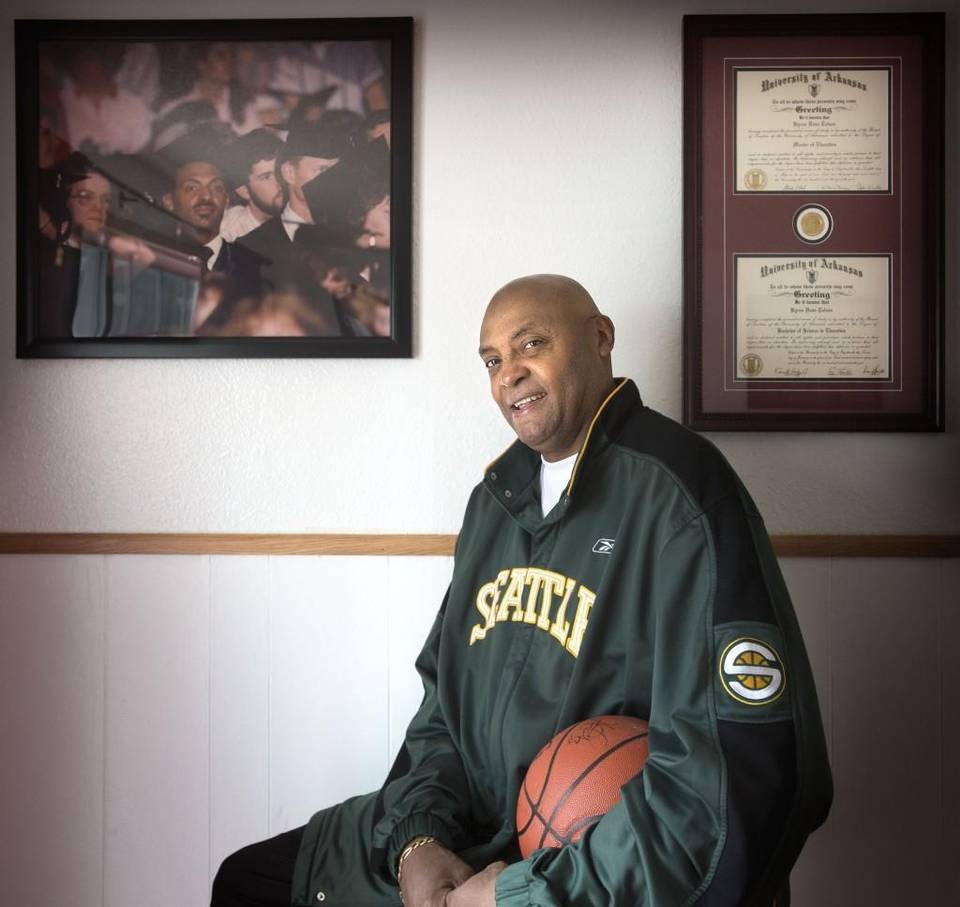 One such member is Dean Tolson. Dean was selected by the Seattle SuperSonics in the 5th round (8th pick, 80th overall) of the 1974 NBA draft, and was also selected in the 7th round of the 1974 American Basketball Association Draft (ABA) by the New York Nets. He was the first player to be drafted by both leagues simultaneously. While only playing three seasons for the SuperSonics, and appearing in 80 games over his career, he did manage to play eleven years internationally. A versatile and dynamic scorer in his collegiate (Univ. of Arkansas) career, Dean's legacy is not his accomplishments on the court, but rather what he's done to overcome a severe detriment that plagues many worldwide. Dean was illiterate for most of his life and through sheer force and determination he returned to school and now holds a B.S.Ed. (BS of Secondary Ed) and M.Ed. (Masters of Ed) from the University of Arkansas, and is a member of the National Honors Society.
We recently caught up with Dean for a chat, where he recounted his personal journey and struggles with illiteracy, detailed his overcoming great odds to become a professional basketball player and shared his mission to be an advocate for the importance of education.
Q: Very early in life you were able to meet one of the greatest players of all time in Wilt Chamberlain. How did that come about?
Dean Tolson: "My aunt dated Wilt when he was at Kansas University, and on the weekends, she would sometimes bring Wilt by her house and occasionally our house. So, when Wilt came through the door, me - as young boy, I was like 'Oh my god.' I was very young when I met him – around 5 yrs old, so I didn't understand the whole scope of it, but when I was 8 – I started to realize the significance and that's when I realized I wanted to play in the NBA. I remember watching Chamberlain and Bill Russell battle."
Q: So, you mention the late, great Bill Russell. Later on, in life as you are coming out of the University of Arkansas – it's actually Bill Russell that drafted you to the Seattle Supersonics.
Dean Tolson: "Correct." He not only drafted me but he coached me."
Q: I'd like to discuss your early life. Your family had some difficulties in raising you when you were a young boy and your were placed in an orphanage. Could you tell us about that?
Dean Tolson: "Oh man, you can't even imagine. It was 300 kids in a Missouri state sponsored orphanage home, and they were all as bad as hell."
Q: Part of the difficulty at this orphanage home is that you are not getting the educational support a child needs at this time in their life. Are you going to school at this juncture? Are you attending classes?
Dean Tolson: "I was going to the school but skipping classes and all that. It was all very negligent on the part of the educational system. Because I was of such big stature and had some size, the schools let me get away with this stuff. This is not a new phenomenon – there are three notable athletes that this has happened to – me, former NFL player Dexter Manley and tennis great Arthur Ashe. What I'm thinking throughout the entire process of me going to school, and not receiving an education is that no one cares. To me it seemed that since I could play ball, that was the only thing anyone was interested in and not necessarily my education or growth as a person. You show up to practice, show up to the games, you win the game and everybody loves you, but no one cares what happens after that."
Q: Now while at the University of Arkansas, you also get drafted by the U.S. Army Reserve. How did you manage that?
Dean Tolson: "I'll tell you – I went AWOL three times while I was in the Army Reserve. Actually, I finished my Reserve training, and the Army told me that I was actually too tall to serve and received an honorable discharge and a 100% pay scale."
Q: So, after you play a game or go to practice, when you go back into everyday life, what kind of struggle is there for you in dealing with this issue of not being able to read or write?
Dean Tolson: "I could not articulate anything at all. I would go through life and fake it. I would act like I knew what you were saying or what was being read – when in actuality I did not."
Q: At what point does the lightbulb come on for you and your realize you need to fix this situation with your reading and writing?
Dean Tolson: "My mother urged me to go back to school and with the help of Arkansas' Frank Broyles. The hardest part for me was disciplining myself to buckle down and get the school work done. I wanted to show the world that anyone can do this.
Q: When you finally complete your education and achieve a Master's Degree, what goes through your head?
Dean Tolson: that I competed the greatest comeback in sports, and educational history.  I want to show these kids out here that they can graduate high school and college."
Q: If you had to dole out advice to aspiring student-athletes what would that lasting legacy piece of advice be?
Dean Tolson: "You have to develop two sides of your personality to succeed. You have to understand that you are a student-athlete – I was an athlete – no student. If you really want to pursue this dream and you really love the game, you have to do both because you can't have one without the other."
Dean Tolson has a book coming out in the Fall of 2023 titled "Power Forward: My Journey from Illiterate NBA Player to a Magna Cum Laude Master's Degree." For more information on Dean's book please visit - https://a.co/d/aLrBYPi and for information on Dean please visit - https://www.deantolson.com/about-dean-tolson/