Former NBA player and executive Lance Blanks dead at 56
The former Suns GM played three NBA seasons after a standout collegiate career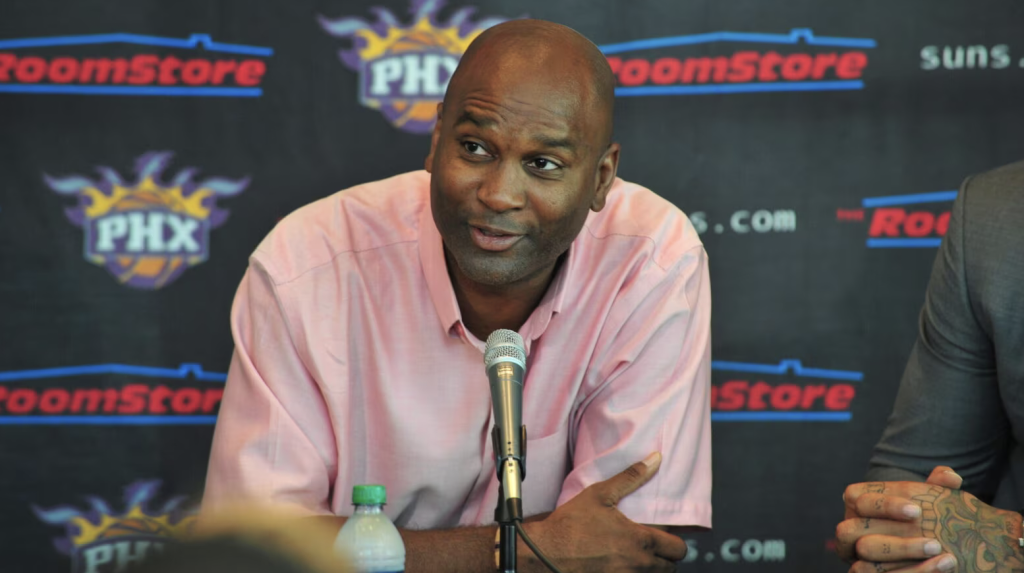 DALLAS, Texas – Lance Blanks, former professional basketball player and executive who worked as an ESPN analyst, passed away on Wednesday, May 3 in Dallas, Texas. Lance was 56 years old.
Lance dedicated his life to the sport of basketball. He played in college at the University of Virginia before transferring to the University of Texas, where he was part of the high-scoring Texas guard trio "BMW", also known as (Lance) Blanks, (Travis) Mays, and (Joey) Wright. Together, they helped lead the Longhorns to the 1990 Elite Eight as one of the nation's most exciting teams. Lance was inducted into the Texas Longhorns Hall of Honor in 2007.
The State of Texas basketball luminary was drafted by the Detroit Pistons with the 26th pick in the 1990 NBA Draft and went on to play for three years in the NBA, followed by seven years as a professional player across Europe. After his playing career, Lance served as Scout for the San Antonio Spurs, Assistant General Manager for the Cleveland Cavaliers, General Manager for the Phoenix Suns, and most recently as a Scout for the Los Angeles Clippers.
"Lance was a light for all those who knew him. It's been a privilege to have called him one of my closest friends. I'm eternally grateful for all the support he has shown me throughout the years. His legacy will be carried on, not only by his family, but by all those whose lives he touched for the better. You will be dearly missed, brother." – Joe Dumars
Seen as a mentor to many kids, players and executives, Lance devoted time off the court to invest in the success of others. He served as a consultant in nearly all facets of life and blazed countless new trails – always with a deep commitment to creating space and opportunity for future generations to thrive. As part of this work, Lance spent many years with Basketball Without Borders in Africa, South America, and Europe, investing in players from underserved areas with a passion for the sport. He was also involved with the Nigerian National Team in the 2020 Summer Olympics.
Lance is pre-deceased by his father, Sidney "Sugar Bear" Blanks Sr., former NFL running back for the Houston Oilers and New England Patriots. Blanks Sr. was the first African American to receive a football scholarship in the State of Texas. In honor of his father's legacy, Lance was heavily invested in real estate projects, community affairs, and business in his father's hometown of Del Rio, Texas. As an entrepreneur and writer, Lance founded Sugar Bear Estates in 2020 to serve as a bastion of the Del Rio community and reflect the life and legacy of his family.
Lance is survived by his mother Clarice, brother Sidney Jr., the mother of his two daughters, Renee, his daughters, Riley and Bryn, and granddaughter, Isabel. Lance was a devoted father, son, and loyal friend. Anyone who knew or met him was touched by his warm smile, calm demeanor, and witty jokes. Lance's genuine and caring heart will be deeply missed by all.
"My dad was my person. He was my teacher, my idol, my best friend. The love I have for him is simply immeasurable. He carried his family and friends on his selfless shoulders and he was the wisest man I'll ever know. The path ahead is dark without him but he once told me that he trusted my sister and me to carry the torch of our family's legacy. And we will." – Riley Blanks Reed
"My heart aches for the tragic loss of my daddy. He was our father, our rock, our superhero – the one who was there when we needed him most. Life will never be the same without him. I rest in knowing that his indomitable legacy and infectious commitment to family and community will live on forever." – Bryn Blanks Lewis
"My child, mama loves you." – Clarice Blanks
Please check Riley Blanks Reed's Facebook in the coming days for the latest details regarding Lance's celebration of life.