Von Nieda entered the league with the NBL Tri-Cities Blackhawks in 1947 and played until 1950.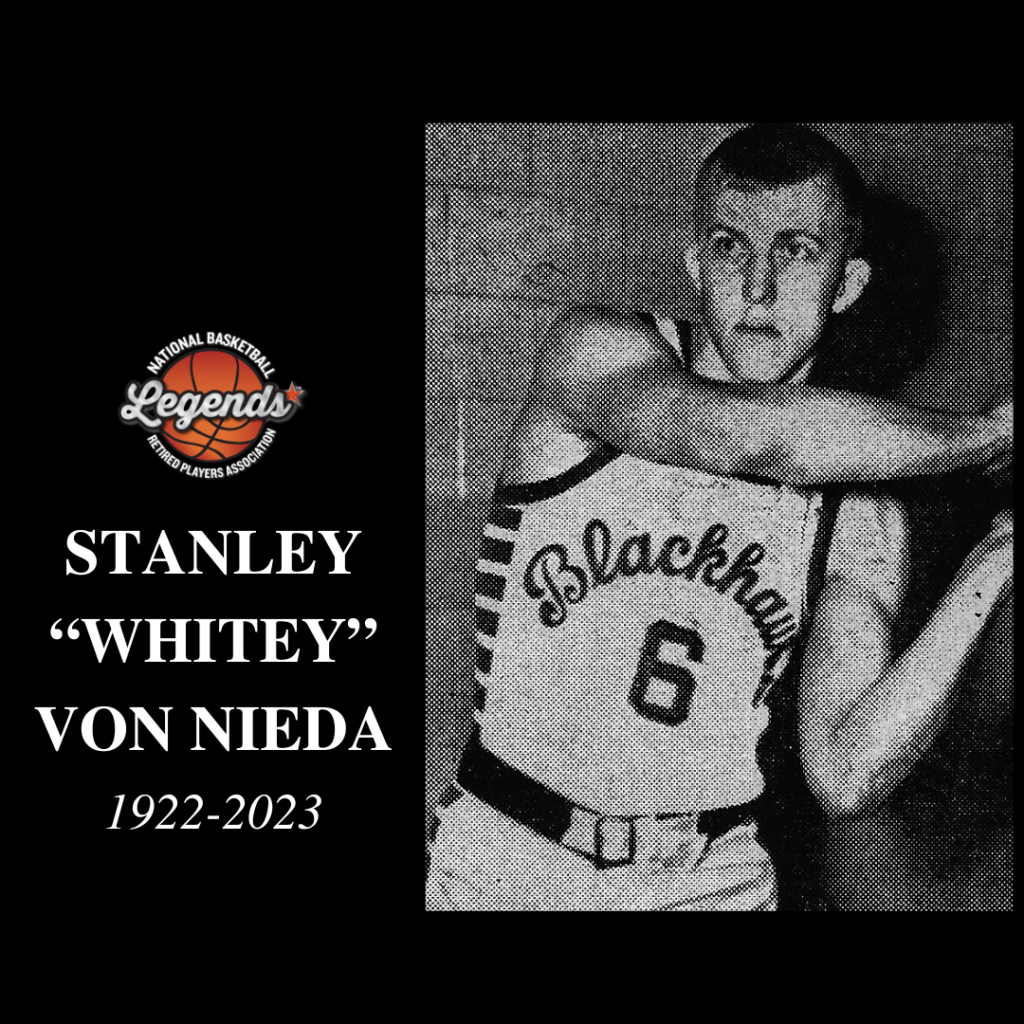 Stan "Whitey" Von Nieda died Thursday at age 101 in Elizabethtown, Pa.
Not only was Von Nieda the oldest living former NBA player, he also was the only one ever to reach 100. He received a certificate verifying that on June 19, 2022, the date he reached age 100, from the National Basketball Retired Players Association.
Von Nieda, a 6-foot-1 swingman, broke in with the NBL Tri-Cities Blackhawks in 1947 and was a member of the NBL's All-Rookie team.
After his second pro season, Von Nieda logged his one "official" NBA season — the NBL and BAA merged in August 1949 — with Tri-Cities and Baltimore. He averaged 5.3 points and 2.4 assists per game in 59 games before an eye injury in January 1950 ended his basketball career.
"I could play either (guard or forward)," Von Nieda was quoted in Lancaster (Pa.) Online's obituary. "Sometimes I'd take my man down inside and hook it over him."
On Oct. 29, 1949, Von Nieda scored 14 points in the inaugural post-merger NBA game pitting Tri-Cities vs. Denver.
Von Nieda's coach with Tri-Cities? Red Auerbach. The Tri-Cities franchise has operated uninterrupted, relocating to become the Milwaukee, St. Louis and eventually Atlanta Hawks. Interestingly, Von Nieda's nickname was shared by his uncle, Harry Von Nieda.
Why had the native of Ephrata, Pa., been a 25-year-old rookie? After his freshman year at Penn State, Von Nieda enlisted in the Army and became a paratrooper during and after World War II. He parachuted behind German lines during the Battle of the Bulge.
Back home after his NBL/NBA stint, Von Nieda coached three seasons at Elizabethtown College in Lancaster County. He later had a career in advertising sales and worked as a bartender.
He and his first wife, the late Dorothy, raised six children. Von Nieda reportedly continued to play basketball, semi-pro and recreationally, into his 60s.
Von Nieda's widow, Arlene, told Lancaster Online on Thursday many social occasions in which people would ask, "Is that Whitey Von Nieda? I saw him play years ago … he was great."