by JOHN FAWAZ
IN PARTNERSHIP WITH THE PLAYERS' TRIBUNE, THE KNUCKLEHEADS PODCAST HAS BECOME A HIT WITH FANS AND INSIDERS ALIKE
Darius Miles and Quentin Richardson are grateful for all the praise they have received for their podcast, Knuckleheads. But the most meaningful feedback comes from those within the fraternity.
"One of the best compliments we got is from the head equipment guy for the Pistons, he's been in the League a long time," says Richardson. "He said, 'Man, it's the first podcast I can listen all the way through. It reminds me of how things are when we're traveling, in the locker room, guys talking."
"That's the atmosphere we want.…Talk about some cool, fun stories that people don't know about. See them in a different light."
This isn't new media, social media, or any kind of media to Richardson and Miles. It's two friends (who have known each other since they were teenagers) shooting the breeze with a guest. Except those two old friends also happen to be former NBA players, and the discussion is the same as if no one was listening.
"That's the best part of what we have going for us. We have regular talks," Richardson says. "It's little things here and there, if there was no camera or mic. We have normal conversations."
And like their usual banter, basketball is only part of the conversation.
"It's about good vibes," Miles says. "Not concentrating on anything negative. We want to talk about journeys and stories."
Miles and Richardson, who spent 13 and nine years in the league respectively, have had their own journeys, from Midwest childhoods to AAU to college ball to the NBA and the post-NBA life, the "what next?" phase that all players grapple with.
They came in together with the Clippers in 2000 and became fondly known as the Knuckleheads because of their on-court celebration involving two taps to the head with balled-up fists. (The salute originated at L.A.'s Westchester High School, whose players asked the duo to do it in an NBA game.) They captured the attention of Michael Jordan, and he and Nike showered them with glam and put them in an ad for Air Jordans. They hung out with hip-hop artists. Ahead of their time? You could say that.
They only played together for two seasons in Los Angeles, so their current gig is not wholly the result of any connections made then. No, this wasn't even on their radar.
"It was something that we just stumbled into," Richardson says. "I first did the story for e Players' Tribune, the 'Letter to My Younger Self,' and that got a lot of response.
"Darius did his letter ['What the Hell Happened to Darius Miles?'] a year later. Same type of response. We had a relationship with the Players' Tribune and we had done a couple other things. What should we do next?"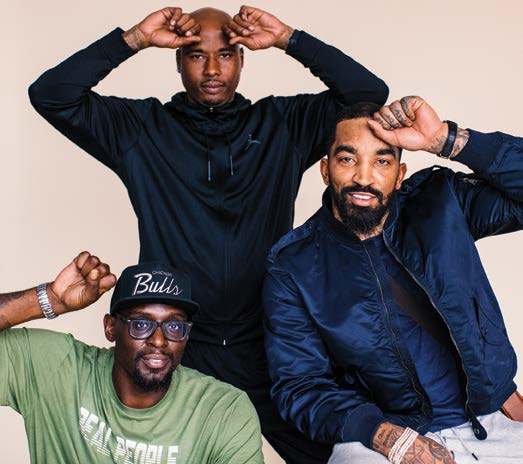 How about a podcast from Richardson's Orlando home featuring former NBA player Drew Gooden? Just a lark, a one-off . But they were hooked.
"Literally after we did it, we felt like it was good and we just went from there," Richardson says.
Initially they booked guests based on two factors: players they knew, and the schedule for the Orlando Magic. Boston will play the Magic on this date. Boom!
Kyrie Irving and Jayson Tatum are on. When are the Hornets coming to town? Let's get Kemba Walker.
They knew they had a hit when after a few episodes, Kevin Durant called them. He said he liked what they were doing and wanted to come on the show.
"We spent two days with [Durant], gave me a whole new perspective and made me more of a fan," says Miles.
"We didn't have a plan to reach out to KD…we didn't plan this," Richardson says. "We didn't know there was this whole iTunes pop chart. We were just
doing it."