AN INSIDE LOOK AT WNBA LEGEND TAMIKA CATCHINGS
by BEN LADNER
These days, Tamika Catchings doesn't wear her hearing aids quite as often as she used to. She might break them out for special appearances and events, but seldom does so within the rhythm of a typical day. That wasn't always the case for Catchings, who was born with a hearing impairment that affected both of her ears and caused her to spend much of her childhood grappling with the physical and social consequences of compromised hearing. She faced ridicule at a young age for wearing aids that other kids didn't have to; she was reluctant to speak in front of people because of the speech challenges that came with the hearing impairment. When, out of frustration, she tossed her hearing aids away in third grade, her parents refused to replace them, leaving Catchings to navigate the rest of her childhood without them.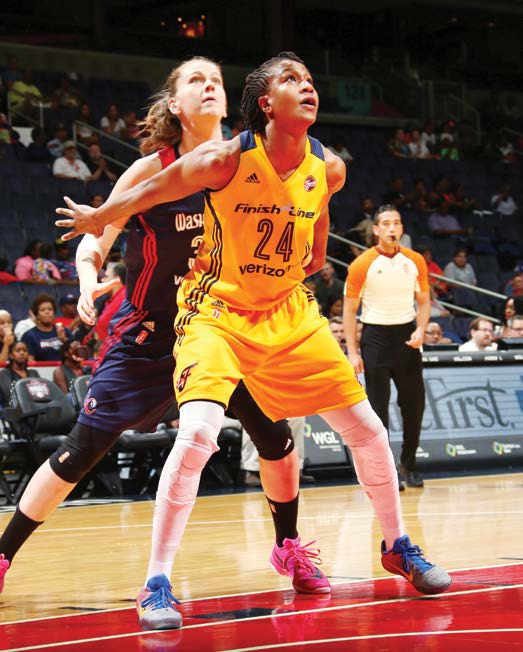 "Every day was a challenge for me," she said in an essay on ESPN.com in 2011, "There were plenty of days that I wished I was normal."
Eventually, Catchings realized she didn't have to be. She decided to tune out and outwork those that derided her, and used sports as her escape
and motivation. As the daughter of former NBA player Harvey Catchings, she eventually gravitated to the basketball court (though she admits soccer
was her first love). She earned a scholarship to play at the University of Tennessee under legendary coach Pat Summitt, who became instrumental
to Catchings' success as a basketball player and as a person. When Catchings arrived in Knoxville, still hard of hearing and shy of speaking,
Summitt was one of the first to urge her to go back to wearing hearing aids as a means of embracing who she was.
"I think for her she was more of a visionary in kind of looking ahead," Catchings said. "For me, being hearing-impaired, she was one of the ones
that was saying 'One day your story will impact thousands, maybe millions of people.'"
Summitt encouraged – even demanded – excellence from her players not only on the court, but in all their endeavors in life. "I think that she
played a really important role," Catchings said. "One thing that she always talked about was, 'We're not just going to be great on the basketball court,
we're going to be great in the classroom and great in the community, but I want great people.'"
After years of reticence, Catchings had fully found her voice by the time she graduated from Tennessee. Over two decades later – and three years after Summitt's death – she still uses the coach's words as guidance.
Since retiring, she has worked in media, player development, and basketball operations with the Indiana Pacers and Fort Wayne Mad Ants, and most recently was promoted to Vice President of Basketball Operations with the Indiana Fever. "I wanted to do something to impact players," she said. "I think for me it was really cool to be able to see them all differently, from the W, to the NBA, to the G League, just being able to see even the operations side of things."
While she leaves strategy and skill development to coaches and players, Catchings remains involved with Fever players' off -court development. She helps players network with people around the league as a means of preparing themselves for life after basketball and set personal goals on and off the court. Most importantly, she encourages them to get comfortable being uncomfortable. "I feel like as basketball players, we're so used to getting into our routines and getting into our rhythm that anything that kind of takes us outside of our box, we tense up a little bit," she said. "And so trying to get them to understand you being uncomfortable sometimes is good, and that it allows you to kind of see things from a different light and from a different perspective."
In 2004, while she was starring for the Fever in the WNBA, Catchings started the Catch the Stars Foundation, which offers basketball, mentoring, and educational programs for underprivileged children. During her career, she frequently spoke out on issues of civil and human rights and protested gun violence on multiple occasions. "I feel that each one of us has a responsibility to making the space around them better," Catchings said. "Eventually, the ecosystem that we live in, all we breed and all we breathe is love. So how come we can't do that, and how come we can't teach that? I think it really starts with each one of us individually taking ownership of what we have."
Catchings learned long ago that "taking ownership of what we have" can make a world of difference. Since then, her message has been heard loud and clear.