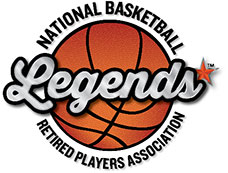 The NBRPA Names Thurl Bailey, Dave Cowens, Shawn Marion and Sheryl Swoopes to Board of Directors
Johnny Davis, Jerome Williams and Grant Hill elevated to executive committee
CHICAGO, ILL. – The National Basketball Retired Players Association (NBRPA) announced today the addition of Thurl Bailey (Director), Dave Cowens (Director), Shawn Marion (Director) and Sheryl Swoopes (Director) to its Board of Directors. Johnny Davis (Chairman), Jerome Williams (Vice President) and Grant Hill (Secretary) are elevated to the executive committee. They join remaining Board of Directors, Sam Perkins (Treasurer), Caron Butler (Director) and Dave Naves (Director). Outgoing directors include Spencer Haywood, Dwight Davis, Nancy Lieberman and Eldridge Recasner who all cycled off after completing two three-year terms. The new board class will begin serving a three-year term, effective immediately.
"This new board class is the perfect pairing of new energy and historical perspective," said NBRPA President and CEO Scott Rochelle. "Adding to our group's diversity of backgrounds and viewpoints will undoubtedly strengthen our leadership and maintain our professional standards. The outgoing directors have set the benchmark for leadership over the past six years and we cannot thank them enough for elevating us to new heights."
New directors, Bailey, Cowens, Marion and Swoopes are responsible for executing the NBRPA mission to serve former professional basketball players, supporting them in life after their playing days, and helping them to leverage their inspirational influence to promote and teach basketball in their communities.
Thurl Bailey, a key figure in North Carolina State's improbable run to the 1983 NCAA National Championship, enjoyed a 12-year career in the NBA with the Utah Jazz (1983-91, 1998-99) and Minnesota Timberwolves (1991-94). Since retiring, Bailey has become a broadcast analyst for the Utah Jazz and the University of Utah, a public speaker, actor and musical artist.
Dave Cowens, a Hall-of-Famer and two-time NBA Champion, spent 10 seasons with the Boston Celtics (1970-80) and one season with the Milwaukee Bucks (1982-83). After retiring from his playing career, Cowens began his NBA coaching career including stints with the Boston Celtics (1978-79), San Antonio Spurs (1994-96), Charlotte Hornets (1996-99), Golden State Warriors (2000-01) and Detroit Pistons (2006-09). Known as one of the NBA's 50 Greatest Players of All-Time, Cowens was inducted into the Naismith Memorial Basketball Hall of Fame in 1991. In 1992, Cowens founded the NBRPA along with NBA Legends Dave DeBusschere, Dave Bing, Archie Clark and Oscar Robertson.
Shawn Marion, a NBA Champion and four-time NBA All-Star, enjoyed a career spanning 16 seasons, including stints with the Phoenix Suns (1999-08), Miami Heat (2008-09), Toronto Raptors (2009), Dallas Mavericks (2009-14) and Cleveland Cavaliers (2014-15). Since retiring from the league, Marion has become an NBA Global Ambassador and Dallas Mavericks Emeritus. Additionally, Marion is a majority shareholder in the New Zealand Breakers of the National Basketball League (NBL).
Sheryl Swoopes, a Hall-of-Famer, four-time WNBA champion, six-time WNBA All-Star, three-time Olympic Gold Medalist, enjoyed a career spanning 12 seasons. Swoopes played 10 of 12 seasons with the Houston Comets (1997-07), one season with both the Seattle Storm (2008) and Tulsa Shock (2011). Known as a trailblazer in the WNBA after becoming the first player to sign with the league, she was often referred to as the "female Michael Jordan". The three-time WNBA MVP was inducted into the Naismith Memorial Basketball Hall of Fame in 2016. Swoopes is currently an assistant coach at her alma mater, Texas Tech.