by BEN LADNER
NBA legacy families have existed almost as long as the league itself has. Scores of former pro players have gone on to see their sons trace their paths to the league, and many NBA family trees stretch unimaginably wide. Rick Barry raised three sharp-shooting sons, Jon, Brent, and Drew) who played in the league, while Bill and Luke Walton each won two NBA titles in their respective eras. Matt Guokas Jr. won a championship with the Philadelphia 76ers in 1967 – 20 years after his father won with the Philadelphia Warriors in the league's inaugural season – making the pair the first father-son championship duo in NBA history. Steph Curry and Klay Thompson followed their fathers' footsteps to team up and anchor a dynasty. The list goes on.
Perhaps the biggest difference between today's NBA offspring and yesteryear's is the scope and intensity of the spotlight. Today's high school and college players get more national exposure than ever before; grow up with an NBA legend for a father, and the limelight shines doubly bright. Those than manage to survive it, though, often go on to highly successful college and NBA careers given their uncommon luxury of learning the game firsthand from basketball royalty. As a new generation of young players attempt to follow in their fathers' footsteps, these five names could loom large over the next era of NBA basketball.
Shareef O'Neal stands on the court during the 2018 Brand Jordan NBA All-Star Uniforms & All-Star Rosters Unveiling show on January 25, 2018 at CBS Studios in Studio City, California.
COLE ANTHONY
UNIVERSITY OF NORTH CAROLINA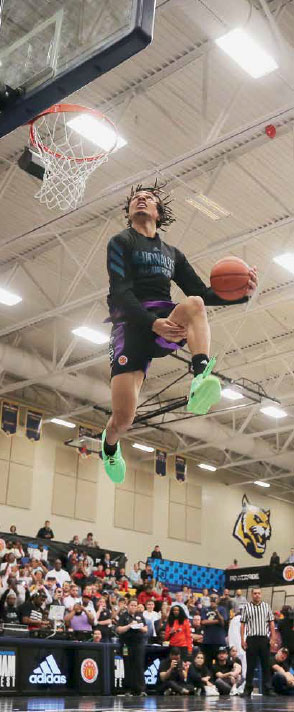 Anthony isn't the son of a Hall of Famer – his father, Greg, was an 11-year role player in the league – but he might make the best pro of any rising second-generation NBA player. At North Carolina, he filled the lottery pick Coby White's shoes, Anthony is perhaps the most vaunted player joining the Atlantic Coast Conference next season. He possesses a rare combination of speed and power, using a quick first step, physical drives, and electric vertical explosion to constantly put pressure on the rim. He has outstanding vision in the pick-and-roll, already showing the ability to read and pick apart defenses on the move.
Anthony's physical tools also make him a stout defender at the point of attack. He's quick enough to slide with ball-handlers and his strong frame yields no ground to what would normally be punishing drives. The college (and eventually pro) game will pose a different physical challenge, one Anthony must meet in the weight room, but he has the build to remain one of the more physically imposing point guards at whatever level he plays.
BRONNY JAMES
SIERRA CANYON HIGH SCHOO L
LeBron James Jr. is already an internet sensation. His highlights have been viewed hundreds of millions of times on YouTube and Instagram, and his basketball exploits have been publicly documented since his early middle school days.
Bronny isn't and likely won't be the basketball player his father was as a teenager – placing such expectations upon him would be wildly unfair – but may prove every bit the phenomenon LeBron was in high school. The younger James made news this summer for both his play on the court and his high school enrollment. With LeBron's move to Los Angeles in the 2018 offseason came Bronny's accompanying transfer to Sierra Canyon, a high school in Chatsworth (an L.A. neighborhood) that just so happens to be one of the country's preeminent basketball programs.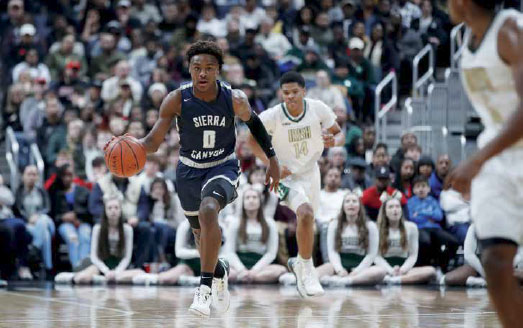 There is (perhaps valid) speculation that the elder James might be prolonging his career in part as a means of becoming teammates with his son in four years, when Bronny would be eligible for the 2023 NBA Draft. Regardless of his dad's influence, Bronny has a chance to pave his own path to the league. With an impressive combination of shooting, passing and athleticism, his game projects as one that will fit the changing NBA well. He is a better shooter than LeBron was as a teenager, though far from the physical force and play-making savant. With so many tools in his arsenal, the biggest determinant of Bronny's success may simply be his physical growth. He already stands 6-foot-2 in his early adolescence; if he sprouts to the standard size of an NBA wing, he becomes a whole new force with which his opponents will have to reckon.
LeBron 'Bronny' James Jr. with his father LeBron James following the Ohio Scholastic Play-By-Play Classic on December 14, 2019 in Columbus, Ohio.
LeBron 'Bronny' James Jr. #0 of Sierra Canyon High School dribbles the ball up court during the Ohio Scholastic Play-By-Play Classic against St. Vincent-St. Mary High School at Nationwide Arena on December 14, 2019 in Columbus, Ohio.
ZAIRE WADE
SIERRA CANYON HIGH SCHOOL
Wade, a lanky lefty, plays with much of the same smoothness, creativity, and skill his father did. Zaire is clearly a great way from meeting the Hall-of-Fame bar Dwyane set, but he does possess the craft and feel for the game to get his NBA career off the ground a few years from now. His three-point shot might be more developed than his dad's was at the same age – if for no other reason than the increased importance of the shot in the modern game – and possesses every bit of scoring acumen and creativity you might expect from Flash's son.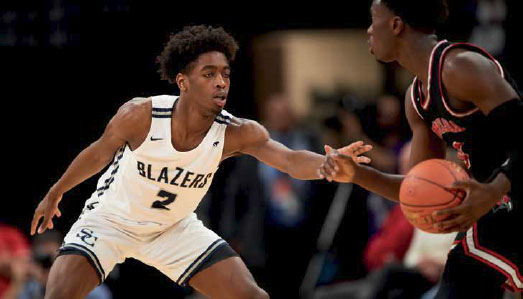 What pops about Wade's game, however, is his passing. Not only is he able to thread dimes through tight crevices and pinpoint windows the defense can't see, he's a willing facilitator for his teammates. He seems to understand when and where teammates will be open, and how to deliver the ball in the most efficient manner possible. At the high school level, that allows Wade to play and feel the game at a different speed than his peers can.
A full three years older than James, Wade might currently be the better player (though likely not the better prospect) and could play a larger role on this season's stacked Sierra Canyon squad. Still, Wade has yet to generate much buzz from college programs, as he doesn't possess the same physicality or creativity as a scorer his father did at the same size. Wade's upcoming senior season will serve as an important proving ground for his college outlook.
Zaire Wade #2 of Sierra Canyon defends against Prince Aligbe #10 of Minnehaha Academy during the game at Target Center on Jan. 04, 2020 in Minneapolis.
Dwyane Wade #3 of the Miami Heat exchanges jerseys with his son, Zaire, after the final regular season home game of his career at American Airlines Arena on April 09, 2019 in Miami, Florida.
SCOTTY PIPPEN JR.
VANDERBILT UNIVERSITY
Pippen doesn't garner nearly the fanfare that James or Wade do, nor is he as dominant on the court as Anthony and O'Neal are. But much like his father, Scottie, he is steady, solid and versatile, and has a viable path to the NBA nonetheless. Pippen, also a Sierra Canyon product, committed to Vanderbilt after a breakout performance at the Les Schwab invitational that earned him tournament MVP honors and figures to play meaningful minutes for the Commodores this season.
Standing at 6-foot-1, 170 pounds, Pippen plays quick and low to the ground, running his team's offense with poise and opportunism. He sees the court extremely well, constantly scouting for passing windows, and has outstanding forward burst and vertical explosion. Like most every player on this list, he has excellent feel and a mind for the finer points of the game. While he prefers to distribute and facilitate, Pippen can capably shoot both off the catch and off the dribble – a weapon that has become more prevalent and necessary for lead guards in the Steph Curry era – though he could stand to become a more consistent shooter. Pippen lacks the ball-hawking defensive playmaking skills father had (the vast majority of defenders do) and lacks Scottie's versatility due simply to his smaller frame. Still, Scotty shares both literal and basketball DNA with one of the greatest defenders of all time, and possesses some of the same instincts and athletic traits.
While Pippen doesn't currently project as the same sort of prospect Anthony, O'Neal, or James does, it's easy to see his upside and a viable path to the NBA, provided he plays up to expectations at Vanderbilt.
SHAREEF O'NEAL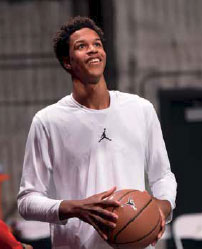 Shaquille O'Neal's oldest son red-shirted his first year at UCLA due to a heart surgery that cost him the entire season, but entered the 2019-20 season healthy and prepared to play. While not as powerful or post-oriented as his legendary father, Shareef O'Neal is among the most skilled and athletically gifted big men in college or high school basketball and a potentially ideal combo big in the modern NBA. (O'Neal's other son, Shaqir, is a lanky 6-foot-5 guard who shares many physical and athletic traits with Shareef.)
At 6-foot-9, 215 pounds, O'Neal is an electric finisher at the rim and an outstanding shooter for his size. As more and more big men are able to these days, he can capably handle the ball and create his own shot from anywhere on the floor, and he has the mobility and explosiveness to guard most positions on defense. Though he projects to play mostly as a power forward or center, O'Neal's versatility could theoretically allow him to occasionally slot in on the wing – especially early in his NBA career, when he'll likely spend most possessions with-out the ball in his hands. Still, there is far more to O'Neal's game than the mere fact of his last name, and the rest of the basketball world could soon find out why.
O'Neal will take his talents to Louisiana State University, his father's alma mater, next season.