THE LIFE AND LEGACY OF FORMER NBA COMMISSIONER DAVID STERN
David Joel Stern was born on Sept. 22, 1942. His father, William, ran Stern's Deli in Manhattan, where David often worked as he grew up. He spent most of his childhood in Teaneck, New Jersey, which was the first Northern suburb to vote in favor of busing in order to support integrated schools. Such a background molded a foundation that fostered both an open mind and an open heart in David Stern.
After graduating from Rutgers University, Stern went on to earn his J.D. from Columbia Law School. His very first involvement with the NBA came during his time at Proskauer, Rose, Goetz & Mendelsohn, the firm that represented the league. After years of working alongside the NBA, Stern joined the in-house team in 1978 as general counsel under Commissioner Larry O'Brien. It was a time that saw the league severely lacking.
Just two years later, Stern was promoted to executive vice president and immediately started making waves. One of his first major decisions in the role was to implement a drug-testing policy, a first for any major sports league in North America. Additionally, salary caps were adopted in order to assist smaller market teams. This decision ultimately stabilized the league, priming it for future growth.
When Stern rose to the role of Commissioner in 1984, the NBA was falling behind the NFL and MLB in both broadcast numbers and revenue. The two other leagues were also in the midst of strategies that ultimately muted their players as individuals, rather than empowered them.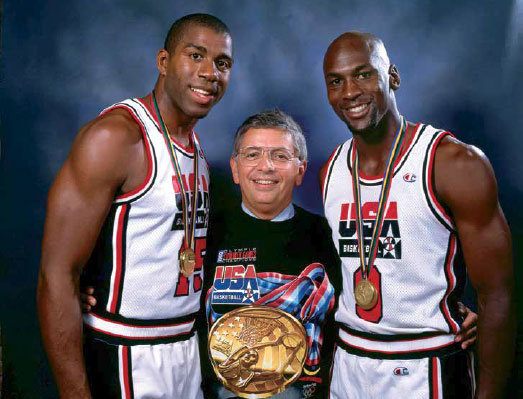 Stern did not believe in these same strategies.
Instead, Stern recognized the intrinsic value each player brought to the league, and embraced the opportunity to highlight the talent and popularity of the NBA greats that had come to grace the hardwood. He introduced the league's licensing and sponsorship division, which led efforts to align NBA players and personalities with some of the top companies in the world.
His dedication to empowering NBA stars created a space where American basketball superstars were akin to their international football counterparts – both Jordan and Pelé were household names around the world. In turn, the NBA and the sport of basketball continued to rise to elite global recognition.
The efforts Stern took to globalize the league are countless. In 1990, he spearheaded the first regular-season game of any major North American sport to be played outside of the continent. When it was announced that professional athletes would be permitted to participate in the Olympics, Stern jumped at the opportunity to put his stars on the world's biggest stage, creating what we now know as the Dream Team. Under his supervision, seven new franchises – including two in Canada – were welcomed in to the league. Agreements were made to televise games in more than 200 countries, and NBA offices were opened in 15 new cities outside of the United States.
In 1997 Stern created the WNBA, which is now considered the pioneering league for female athletes in the world to this day as it is the longest-standing women's professional sports league. In 2001, he created the developmental league, now known as the G League, as the NBA's official minor league basketball organization. The new venture began with just eight franchises; in 2020, it will have 29.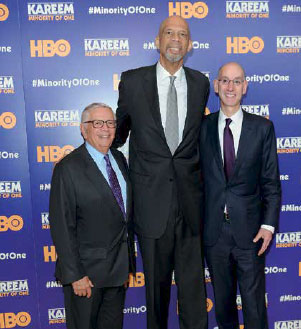 Stern's success in growing the NBA was built on a foundation of marketing genius. When he took over as Commissioner in 1984, the league's television rights were sold for an average of $28 million annually. Over the course of his tenure, that number increased nearly 40 times over, to $930 million annually.
David Stern was, simply put, well ahead of his time. He consumed the world around him – not just sports business. He understood the role sport plays in society, and recognized the broad reach it has in influencing every aspect of life. Perhaps no better example of this came in 1991, when Magic Johnson announced that he had been diagnosed with HIV.
Prior to the 1991-92 season, a routine physical delivered HIV positive results for Los Angeles Lakers superstar Magic Johnson. Stern, who was well-informed in nearly all facets, understood the disease much better than most of the general public at this time. Stern stood by Johnson, and supported the star throughout his announcement to retire and pursue his new mission of informing the world about the disease. Stern's position helped advance the acceptance of people with HIV, therefore touching lives far beyond the basketball court.
Stern was not without his challenges, of course. During his time as Commissioner, he faced two lockouts (1998-99, 2011-12), both of which saw significant cancellations for each season. The infamous Malice at the Palace brawl saw Stern hand down the heaviest suspensions the league had ever seen. In 2007, the Tim Donaghy gambling scandal broke, sending the sports world reeling. Other obstacles, such as the poor reception of a player dress code, tested Stern's leadership. Each time, Stern came back a stronger and more knowledgeable Commissioner.
David Stern was a fierce leader with relentless vision and unrefuted genius. He truly solidified the NBA as a global superpower, leaving behind a storied legacy for generations to come.
Because of David, amateurs can continue to hone their skills in the G League. Because of David, women can pursue their passion for the game professionally. Because of David, we have a league that represents far more than sport. Because of David, we can all proudly stand together to celebrate the game we love.