NBA PLAYERS ARE INCREASINGLY STARTING THEIR MEDIA CAREERS WHILE THEY'RE STILL PLAYING IN THE LEAGUE
by CALEB FRIEDMAN
The summer of 2019 provided an NBA free-agent frenzy unlike any we've seen in a long time. Shortly after winning an NBA Championship and Finals MVP award with the Toronto Raptors, Kawhi Leonard signed with the Los Angeles Clippers. The team also signed Paul George, and Twitter be-gan exploding.
Bill Simmons, founder of The Ringer and formerly of ESPN and Grantland, considered the news as potential for furthering his family of podcasts.
In discussing the Clippers' prospects with Leonard and George, Simmons suggested adding Andre Iguodala to the roster. The move, he claimed, would make basketball sense for Los Angeles, but also includes a self-serving reason for Simmons:he believes Iguadola would make a great podcast host for The Ringer, which is based on Los Angeles.
"I have selfish reasons for this one," Simmons says on his podcast while speaking to Marc Stein of the New York Times. "I'm announcing it, it's 11:25 here on the West Coast. If Andre Iguodola comes to the Clippers, I'm giving him a Ringer podcast."
The Ringer, which is known for its podcasts, has experienced great success with player-driven podcasts, where players—as opposed to journalists or pundits with years of media experience—drive the conversation to give insight into the life of an NBA player. For publications and players alike, the relationship afforded by a podcast is mutually-beneficial; the publications get exclusive and informative details that all reporters covet, and current players get valuable media experience that gives them the reputation to jumpstart careers in media in their post-playing days.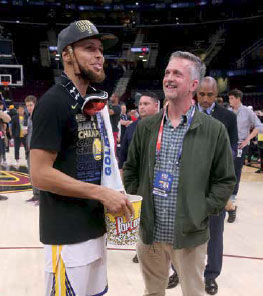 "That's the way of the future," former NBA player Shawn Marion said of player-driven content. "A lot of times when you're a fan, you'd rather hear it from a player perspective…Living and going through something is different than going through and watching it on TV."
For instance, Quentin Richardson, a former NBA three-point champion who played 13 seasons in the league, hosts the Knuckleheads podcast with his former teammate Darius Miles for The Players' Tribune. Richardson said being a current or former player helps build trust with other players early in interviews, which helps create an authentic and interesting conversation.
"It's a small fraternity of us, we're some of the only people who are privileged to the things we go through," Richardson said. "So when I ask a Kevin Durant or a Dwyane Wade questions, we're relating on a different level than our listeners can, and we're letting them inside the locker room and inside what we think and how we see things."
While established media publications often provide a ready-made framework and infrastructure for players to work in, some players are opt-ing to take a more entrepreneurial approach and start their own media entities.
LeBron James, for example, owns Uninterrupted, a digital video company that brings athlete-driven content to fans directly. Kevin Durant, meanwhile, owns Thirty Five Ventures, which has a media wing that produces original content across several online and social platforms.
Regardless of the exact form, NBA players are increasingly taking con-trol of their own content while still playing, which allows them to harness their current connections in the league and use them to build their media profile and personal brand. More than ever before, players are starting their post-playing careers while still playing, making the transition from playing to retirement smoother than ever.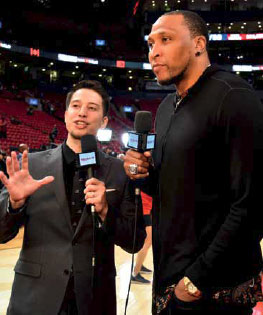 In response to the changing media landscape, the National Basketball Retired Players Association (NBRPA) has committed itself to providing programs and services to help Legends navigate the complex digital world. The NBRPA launched Legends Live to provide an outlet for retired players to have an online voice and contribute to the conversation on social media. Great importance is placed on assisting Legends in the digital space and the NBRPA is committed to expanding these opportunities in the future.
"A LOT OF TIMES WHEN YOU'RE A FAN, YOU'D RATHER HEAR IT FROM A PLAYER PERSPECTIVE…LIVING AND GOING THROUGH SOMETHING IS DIFFERENT THAN GOING THROUGH AND WATCHING IT ON TV."
-- Shawn Marion