by JIM ROOT
"Ball is life." A mantra for many hoop heads, that phrase has come to represent the total devotion to basketball, whether it be watching, playing, analyzing, or taking part in any other aspect of the game.
No one better represents the way the sport can consume a person than professional basketball players. For many, the sport becomes interwoven with their identity, and really, how could it not? It takes a staggering amount of work to get to that level, even for the most physically gifted, and the pressure to maintain – and even increase – that level of commitment multiplies as the stage gets grander.
The risk, though, comes in having so much of oneself tied to such a singular focus. What if your body falters? Or, perhaps even worse, what if your mind does?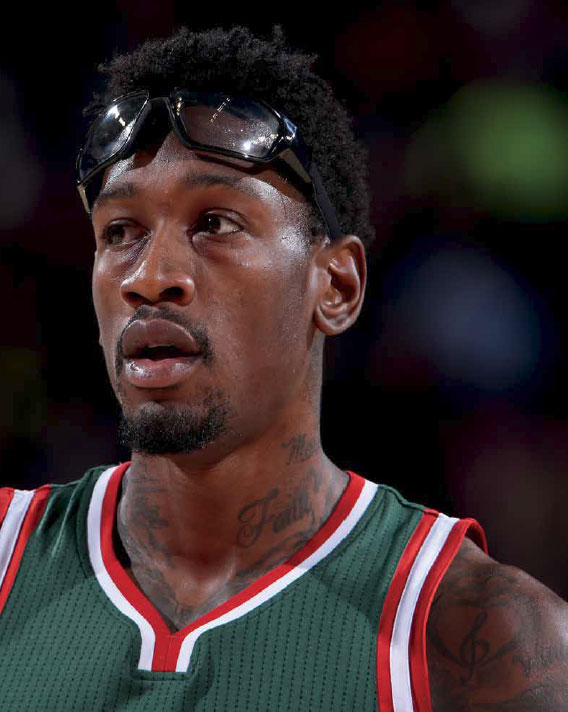 Larry Sanders knows the burden of being a professional all too well. After vastly outperforming his rookie contract with the Milwaukee Bucks, he signed a four-year, $44 million extension in 2013, and the ferocious rim protector seemed primed to be a principal reason to "Fear the Deer" for the rest of the decade.
After leading the NBA in block percentage in 2012-13, Sanders became something of a cult favorite among fans, spearheaded by his highlight reel blocked shots and sometimes-acrimonious run-ins with officials. ESPN NBA writer Zach Lowe referred to him only as "LARRY SANDERS!" in articles, and Sanders was once ejected from a game for awarding each official with an exaggerated thumbs-up gesture following a call with which he disagreed. But the 6'11 defensive star wasn't thriving in the same way privately.
As fans, we want to believe we "know" a player based on what we see on the court. Sanders was a confident defender, constantly smiling but also quick to frustration when calls went against him. So, this must be his off-the-court personality as well, right? Happy, but a loose cannon?
"What do you really value in a person? Their honesty, their trust, their loyalty, their commitment…you can't tell that by looking at someone jump around on TV,"
"YOU CAN SACRIFICE SO MUCH OF Y OURSELF AND BE LEFT WITH NOTHING AT THE END OF THE DA Y," SANDERS SAID, ENCOURAGING FELLOW PLAYERS TO PUT THEMSELVES FIRST , AS WELL. "THE DA Y AFTER YOU WIN A CHAMPIONSHIP , YOU'RE GONNA FEEL LIKE THE SAME DA Y BEFORE… IT'S GONNA FADE."
-- Larry Sanders
Sanders says. And he's right – we have no way of knowing what's actually happening inside the heads of professional athletes, which is why
it's so important that those athletes put themselves first, even if it may not be glamorous to do so.
Sanders ultimately had to make that decision for himself, checking himself into Rogers Memorial Hospital for anxiety, depression, and mood disorders in February 2015, leaving the game he loved because he knew he needed to prioritize his own well-being above the fleeting accomplishments of the sport.
"You can sacrifice so much of yourself and be left with nothing at the end of the day," Sanders said, encouraging fellow players to put
themselves first, as well. "The day after you win a championship, you're gonna feel like the same day before… it's gonna fade."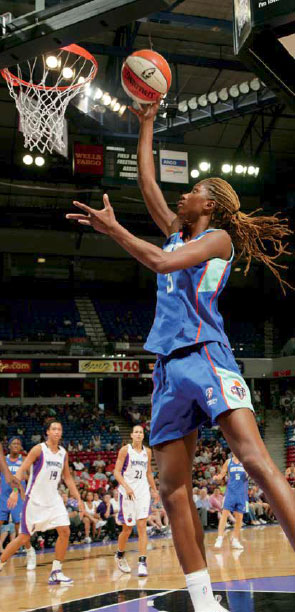 Iciss Tillis was always a lover of basketball, too, and her preternatural abilities only made it easier to get lost in the game. She was a high school All-American in Oklahoma, earning a scholarship at Duke University and eventually blossoming into a collegiate All-American there, as well.
She always had other interests, though. From an early age watching the O.J. Simpson court proceedings, Tillis knew she had a passion for justice. For a long stretch of her life, she put that interest on the back-burner, throwing herself into her basketball career (and doing so rather successfully). But she always felt the pull off the courtroom, wisely acknowledging to herself that hoops would not last forever.
Eventually, at age 30, Tillis hit the breaking point. She retired from basketball and immediately began to figure out how to kick-start her legal career, quickly enrolling at Texas Southern and distancing herself from the game, even as that distance pained her – and others around her. For instance, her mother had spent Tillis' entire life closely following her daughter's basketball career, and suddenly that connection was gone. But Tillis had to follow her heart.
"Walk in your path – or you'll live someone else's dream," she says. Practicing law had been Tillis' dream from a young age, and there's a freedom in pursuing that, even if others may have wondered why she was walking away from the game.
Another of Tillis' favorite axioms laments this transition period: "Athletes die twice." She was – and still is – determined to make her "second life," so to speak, just as fulfilling. Tillis is now a successful attorney for Jackson Lewis, and her unique perspective in the legal field
has come in handy throughout her career.
Basketball is a beautiful game. It can give opportunities to people who may not otherwise have them, and the correlation between hard work and results is tremendously satisfying, even at levels far below the professional ranks.
Like any relationship, though, the one between a player and the game should always be mutually beneficial. The connection will be better and more rewarding if the player retains an identity and a healthy state of mind outside of the sport. For Sanders and Tillis, basketball – for as much as they truly did love it – became an obstacle to something else, and each one knew that the best approach for individual happiness was to walk away.
Ball can certainly be life, but it should never be at the expense of self, and players (and coaches, scouts, etc.) must never be afraid to realize the freedom and joy that can come from the rest of life, as well.