INSIDE THE METEORIC RISE FROM PL AYER TO EXECUTIVE
by CALEB FRIEDMAN
What do you do if the game no longer wants you back?
A severely underrated and under-reported aspect of athletic retirement is how often it is a "by default" decision. The legends who choose to leave the game get plenty of attention (think Dwyane Wade, Dirk Nowitzki, Kobe Bryant, etc.), but there are significantly more players for whom the phone simply stops ringing. These players pass on silently into the next phase of life, left to figure out a new direction in which to pivot.
Elton Brand dreaded the idea of falling into the latter group. Once on track for one of those "storybook retirement" situations – Brand was positively dominant for the first eight years of his career – injuries had robbed the former Duke star of his explosiveness before his mind was ready to move in a new direction. Basketball was still his passion, and more specifically, playing basketball was still what he wanted to do.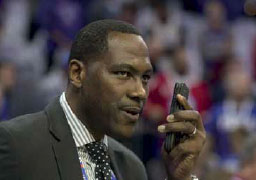 That distinction is crucial, because it wasn't as if Brand had no options. The Atlanta Hawks, for whom he had just finished playing during the 2014-15 season, were keen on bringing Brand into the front office fold, offering him an assistant GM job under Hawks President and head coach Mike Budenholzer. Brand is no fool; he knew it was a tremendous opportunity, and he went through the process of exploring it, shadowing upper management and walking through the beats of a typical day in the life of a member of the front office. The work intrigued him, but his heart was not yet ready to close the book on his playing days.
I love playing ball. I want to hoop, Brand thought.
And so he respectfully declined the Hawks' offer, opting to return home to Penn-sylvania, yearning to hear the phone ring one more time with the promise of a role he wanted to fill. It was an uneasy period, but Brand was happy to throw himself into his training and his family life. He relished the time he was able to spend with his family after so many years on the road, reveling in seemingly simple tasks like taking his kids to school. Family, as Brand says, is – and will always be – the most importing thing to him. Other opportunities came knocking, like being on television or an assortment of business ventures, but Brand wanted to lace up the sneakers, and he had the luxury and stability to decline anything that wasn't exactly what he was looking to do.
Eventually, in January 2016, the right call came. The Philadelphia 76ers, deep in the throes of "trusting the process," wanted a strong veteran presence to join the bench and help mentor the alarmingly young nucleus. It was a strong fit on both sides: the team liked the positive impact he had made on Atlanta's roster, and Brand appreciated the thought of staying somewhat local and potentially easing into the front office work he had previously explored with the Hawks. The 76ers agreed to an arrangement that would give Brand a path to management, and he returned to the team he had spent four years with from 2008-2012.
It turned out to be a perfect match. The months spent with the fledgling 76ers gave Brand the transitionary phase he needed to adjust to the idea of moving into the front office, and the influence he had on players like T.J. McConnell (still with the 76ers to this day), Robert Covington, and Nerlens Noel helped those guys through one of the bleaker campaigns in NBA history.
And then the real work started.
After the season, Brand at last found himself ready to make the switch to an off-the-court role. The passion for the sport remained, but that last run with the 76ers served as almost a therapeutic period, freeing his mind to take a role as a player consultant for the organization.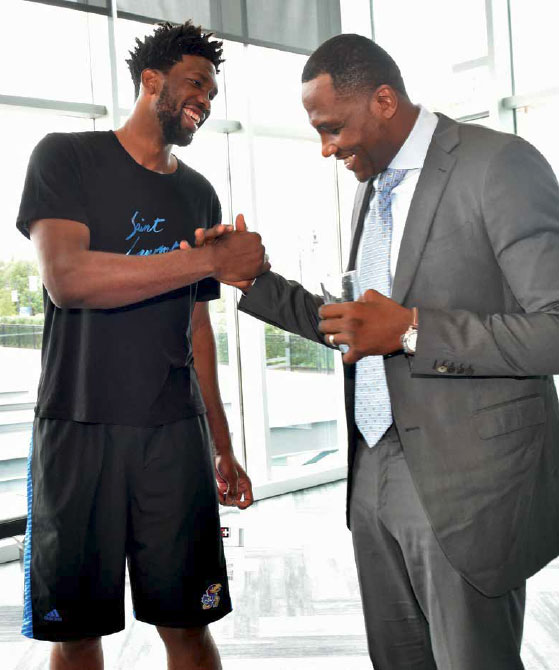 He threw himself into the new gig, treating it like a corporate job and demonstrating to the rest of the front office that he wanted to be in management. He traded in his sneakers for dress shoes, his sweatsuit for a suit, and left the court behind. During his performance review after the season, head coach Brett Brown and general manager Bryan Colangelo told Brand they envisioned his role as more on-court, though they still offered high praise for his determination to learn the ins and outs of the off-court operation.
Brand knew where he wanted to be, though, intentionally position-ing himself as an off-court presence. "That was by choice," Brand told the NBRPA. "I didn't go on the court at all, I didn't get one rebound. I'd suggest that for any player post-career: pick a lane, pick what you love and attack it."
With that clarity of focus on his side, Brand pursued a job opening with Philadelphia's G-League team, the Delaware 87ers (now the Del-aware Blue Coats). His experience – and strong performance – in his prior consultant role made him a superb candidate.
"I loved the idea," Brand said. "If I want to go be a GM one day, it was a no-brainer for me. I jumped at the opportunity."
He earned the role, and suddenly he found himself running the day-to-day operation for a team barely a year after he was done play-ing. Gone was the luxury of the NBA, but Brand was ready for this new challenge, no longer yearning for the one more shot to be on the court. He embraced his new lifestyle in the grittier G-League, fondly recalling renting cars to scout players in places like Canton, Ohio, and Oshkosh, Wisconsin, or flying to Sioux Falls, South Dakota, in a snow storm. Brand really valued the chance to gain valuable reps without the ever-present microscope of the NBA bearing down on him.
"The G League showed me I'd love to be a general manager if I got the opportunity," Brand said. "Taking buses, it's not glamorous, it's not the NBA, but it's still basketball. It was pure. It was still basket-ball."
The experience he gained in areas like running his own draft and executing his first trades would quickly prove invaluable. Colangelo resigned his general manager position in June of 2018, and Brand, who had already been promoted to Vice President of Basketball Operations, leapt at the chance to fulfill his dream of being a GM.
Everything Brand had learned through his time as a mentor in Atlanta and Philadelphia, plus his tenure in charge of the Blue Coats and his laser-focused mentality, shined through in the interview process. He sold the ownership group on his vision for the team and its cornerstone pieces in Joel Embiid and Ben Simmons, and his ability to communicate and connect with both the management team and the players made him a tremendous candidate.
"It was bigger than just me, the opportunity to be an ex-player and show we can fulfill and excel in these roles," Brand said. "Being a lifelong learner and having a growth mindset, it was an opportunity to learn and grow and embrace a new challenge."
Since taking over as GM, Brand has made several bold moves, including trading for Jimmy Butler and Tobias Harris and signing Al Horford as a free agent this off-season. But for the burgeoning new front office superstar, it's about far more than just roster transactions. It's about finding a new place for himself in the world of basketball, and perhaps just as importantly, finding an area of the sport that wants him, too. He has a tremendous platform to impact people in a positive way, and he does not take that lightly.
"My goal is obviously to win a championship for the city of Philadelphia," Brand said. "(But) the broader goal is bigger than basketball, having these relationships with the players that they can come into our organization and make their dreams come true, and then when they leave the game have opportunities and have a great feeling about our organization. 'The Sixers are a great organization; Elton Brand supports me as a mentor and a friend even if I can make a shot or not.' It's bigger than basketball."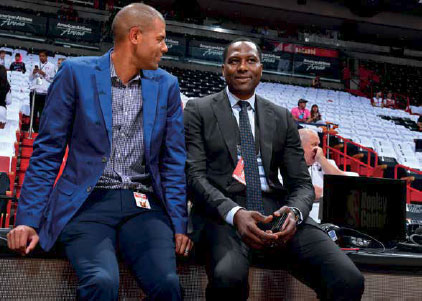 "IT WAS BIGGER THAN JUST ME, THE OPPORTUNITY TO BE AN EX-PLAYER AND SHOW WE CAN FULFILL AND EXCEL IN THESE ROLES. BEING A LIFELONG LEARNER AND HAVING A GROWTH MINDSET, IT WAS AN OPPORTUNITY TO LEARN AND GROW AND EMBRACE A NEW CHALLENGE."
-- Elton Brand